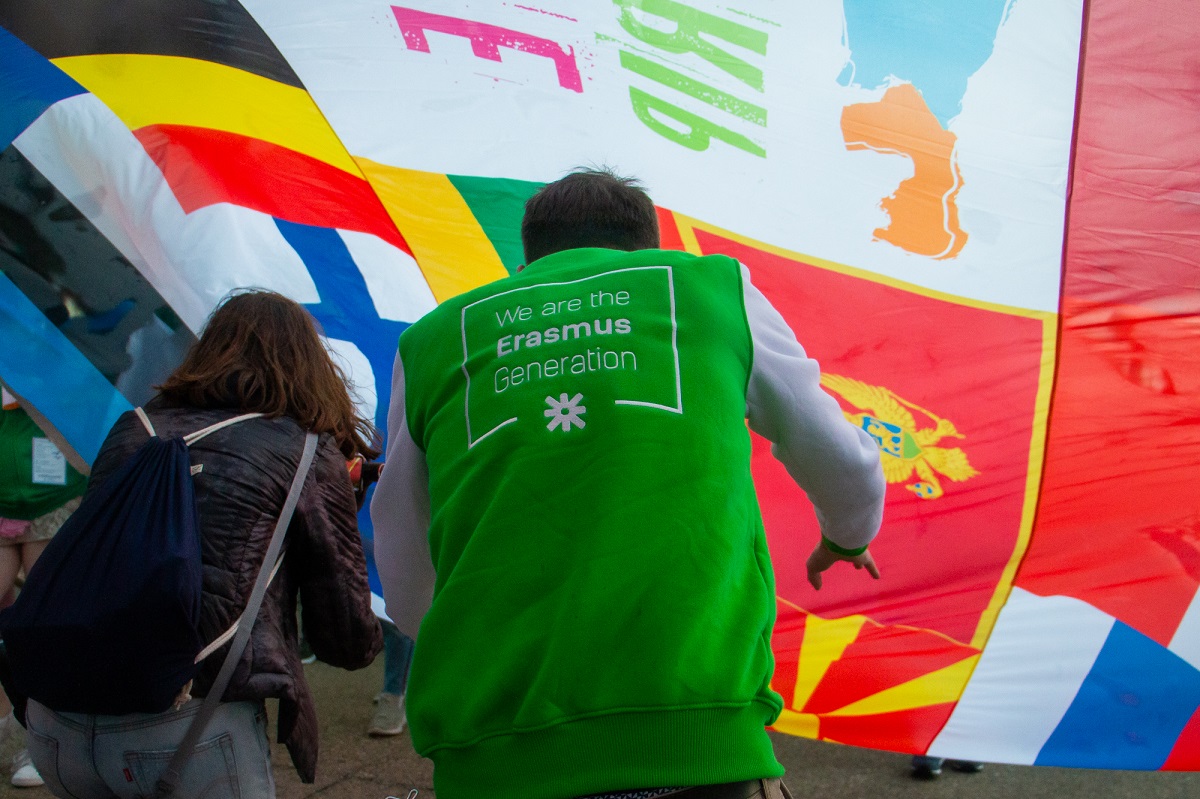 Monday, 23 December, 2019 - 10:08
Dear ESN members, volunteers, alumni, partners and stakeholders,
We would like to thank you for your continuous support and collaboration in carrying out our mission of enrichment of society through international students in 2019! As we enter the festive time, we encourage everyone to sit back and reflect on what the previous year has brought.
In 2019, ESN:
Celebrated the 30th anniversary! 30 years of students helping students, improving international education, fostering intercultural understanding and creating positive change in society through our values.

Adopted a new vision and approved major structural changes for the organisation, during the Annual General Meeting (AGM) in Thessaloniki that gathered more than 800 student representatives from over 500 universities.

Adopted a new logo and visual identity. The change is opening a new chapter for one of the biggest student organisations in Europe, following the desire of unity and recognisability.

Continued to develop the 6 Causes of ESN to maximise the social impact of our activities.

Was awarded the Charlemagne Medal for European Media (Médaille Charlemagne pour les Médias Européens).

Welcomed Ukraine and Albania to the family, as the 40th and 41st ESN member countries, alongside Moldova, with Chișinău as ESN Candidate Section.

Distributed 180.000 ESNcards in 36 Countries, providing an opportunity to international students to enjoy hundreds of discounts and to participate in all the activities organised by our 520+ sections.

Promoted the participation in the European elections 2019 and reached 3,800,243 people that helped with the overall turnout of young people at the European elections - 50.6%, the highest since 1994.

Assessed the approach and views towards voting of young people, with a focus on the European elections in the ESNsurvey 2019 - "Active citizenship and student exchange in light of the European elections".

Launched a Joint Position Paper with the European Students Union (ESU) for the tripling of the budget for the next Erasmus+ programme.

Continued to promote the European Cultural Heritage as a member of the Cultural Heritage Forum through numerous events, digital campaigns and a travel contest Mobility Is My Lifestyle.

Organised the Social Dimension of Erasmus+ conference, to address how the Erasmus+ programme encourages a more connected and inclusive society through initiatives that promote social engagement and volunteering on exchange.

Launched the SocialErasmus+: Volunteering on exchange Toolkit to develop and professionalise the implementation process of social engagement activities.

Organised the Social Inclusion Leaders Meeting in Brussels and gathered over 60 ESN volunteers who advocate for social inclusion in our organisation, both on the local and national levels.

Empowered almost 20.000 international students during more than 500 events to volunteer for their local communities during two weeks of the Social Inclusion Days. And then we did it all over again the following semester.

Organised for the first time the Health and Wellbeing Week, which concluded 100 events in 23 countries, showing international students that they can adopt a healthy lifestyle while being on exchange.

Gathered 32 ESN volunteers from 22 countries, and six trainers from ESN's and the Council of Europe's pools of trainers, for the Study Session ESN Gender Checkup.

Organised the GlobErasmus training, aimed at educating the participants about global citizenship and global competencies developed through different organisations and reinforcing them through workshops and training sessions with external partners with an overall goal of empowering the Erasmus alumni and volunteers.

Hosted a group of 30 young people from 10 different non-EU countries and six different organisations in Novi Sad during STRONGER, an event focused on improving the youth and student engagement in order to encourage youth activism and multicultural mindset.

Inspired by the success of the European Union's longstanding Erasmus+ programme, we organised ARISE (ASEAN Region International Student Engagement) to facilitate the internationalisation at their home universities, and to support international students studying in countries of Southeast Asia.

Launched a training program on Media Literacy for ESN volunteers, in cooperation with the Council of Europe and the European Youth Foundation.

Organised the fifth edition of the International Erasmus Games and gathered 350 participants from 20 countries thanks to Erasmus Student Network Paris.

Participated in EAIE Helsinki 2019, Europe's largest international higher education conference that welcomed over 6000 higher education professionals from 95 countries.

Attended NAFSA, the biggest higher education fair in the world, this year held in Washington DC, USA.

Participated in a series of meetings hosted at the Palace of the Parliament in Bucharest by the Ministry of National Education of Romania: the 7th ASEF Rectors' Conference & Students' Forum (ARC7), the 2nd Senior Officials' Meeting (SOM2) of ASEMME7, and the 7th ASEM Education Ministers' Meeting (ASEMME7).

Signed Memoranda of Understanding with a few organisations active both in the EU neighbourhood and the EU: the Mediterranean Universities Union (UNIMED), the Union for the Mediterranean (UfM) and the Eurasian Universities Union (EURAS).

Joined a three-year project, "Welcome to Israel! Learning & Leading Internationalization at Home Assistance & Management tool" (WILLIAM) that brings together seven Israeli higher education institutions and five European partners to share their experience on internationalisation at home and improve this area in the Israeli higher education system.

Launched the EPFIME project (Enhancing a thought-out Policy and Framework on Inclusive Mobility across Europe) that aimed to examine the needs and expectations on inclusive mobility of national authorities, students with disabilities and higher education institutions across Europe.

Launched the "Social Inclusion and Engagement in Mobility" (SIEM) project that aims at measuring the barriers to inclusion in student mobility and empower international students to engage with youth from disadvantaged backgrounds.

Launched the ErasmusJobs project. During two years we will build a platform similar to ErasmusIntern.org, where employers and recently graduated students can find each other.

Launched the "Home of Mobile Europeans" (HOME) project that will work on boosting international mobility by defining and implementing quality standards for international student and trainee housing, while also creating a shared data information system.

Launched the How Long Is Too Long project, aimed to enable higher education institutions to adapt and improve their mobility strategies.

Responsible Party celebrated its 10th anniversary, through the partnership renewal between ESN and Pernod Ricard. Over the past ten years, the Responsible Party program has been implemented in 32 countries and raised awareness to more than 400,000 students.

Celebrated the launch of our third year of partnership with Ryanair, while marking a total of 365,000 bookings by ESNcard holders on the dedicated platform.

Launched a partnership with Tomorrowland, one of the biggest music festivals in the world, to offer to the international students special ticket sales with pre-sale prices, and unique moments to reunite at the festival.

Launched the fourth year of partnership with Hostelling International, celebrating their great added value to our efforts of offering better opportunities to mobile students.

Gathered almost 600 participants from all over Europe for five simultaneous regional training events in Utrecht, Malaga, Debrecen, Vaasa and Baku.

Successfully organised another two training editions of National Boards' Meetings in Łódź and Istanbul, building capacity among ESN's national organisations and further empowering the national level.

Inside the organisation, we conducted the first Quality Assurance process for the national organisations, elected the first-ever Arbitration Board and Audit Commission of ESN, and launched a new version of ESN's internal knowledge management platform.
Thank you – this wouldn't be possible without you! Read more about some of those achievements in the 2018/19 Annual Report. 
We would like to wish you happy holidays spent among your loved ones, as well as plenty of energy and motivation to keep up this great work in the upcoming year!
Yours,
The International Board and the Secretariat