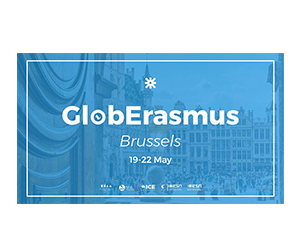 Monday, 17 June, 2019 - 12:43
Between the 19th and 22nd of May, members of the Erasmus Student Network and the Erasmus Mundus Association gathered in Brussels for the GlobErasmus training. It aimed at educating the participants about global citizenship and global competencies developed through different organisations and reinforcing them through workshops and training sessions with external partners with an overall goal of empowering the Erasmus alumni and volunteers.
GlobErasmus is one of many steps ESN is taking in expanding own horizons and keeping up with the developments of the new Erasmus programme which aims to expand globally. The training organised by ESN volunteers Angela Russo and Joana Ribau Leite and facilitated by Patrícia Gonçalves and Carmen Majzin, allowed for new knowledge and a wider perspective on activities we are already implementing and the ones we could organise to ensure even larger impact and spread our mission of "students helping students" globally.
Right from the start, the participants had the opportunity to learn how different organisations approach the topic of global citizenship from guests such as Ajaree Tavornmas from Asia Europe Meeting (ASEM), Sebastiano Putoto from Young European Federalists  (JEF) and Jo Deman from World Organisation of Scout Movement (WOSM).
In the following days, participants continued to further explore the relation between their organisations and global citizenship education with a focus was on the UN's Sustainable Development Goals. Participants of GlobErasmus analysed activities of their own organisations that already tackle SDGs and explored new methods of approaching them.  Together, they began building a set of recommendations that address each of the SDGs in relation to the fields of actions of the organisations.
Finally, the goal of setting the ground for potential collaboration between ESAA members focused on the topic of global citizenship and competence will result in a Toolkit about Citizenship Education in ESAA organisations based on the inputs from participants of the GlobErasmus.
The event was organised by the Erasmus Student Network and the Erasmus Mundus Association, in partnership with ESN Greece and funded by the Erasmus+ Student and Alumni Alliance (ESAA).