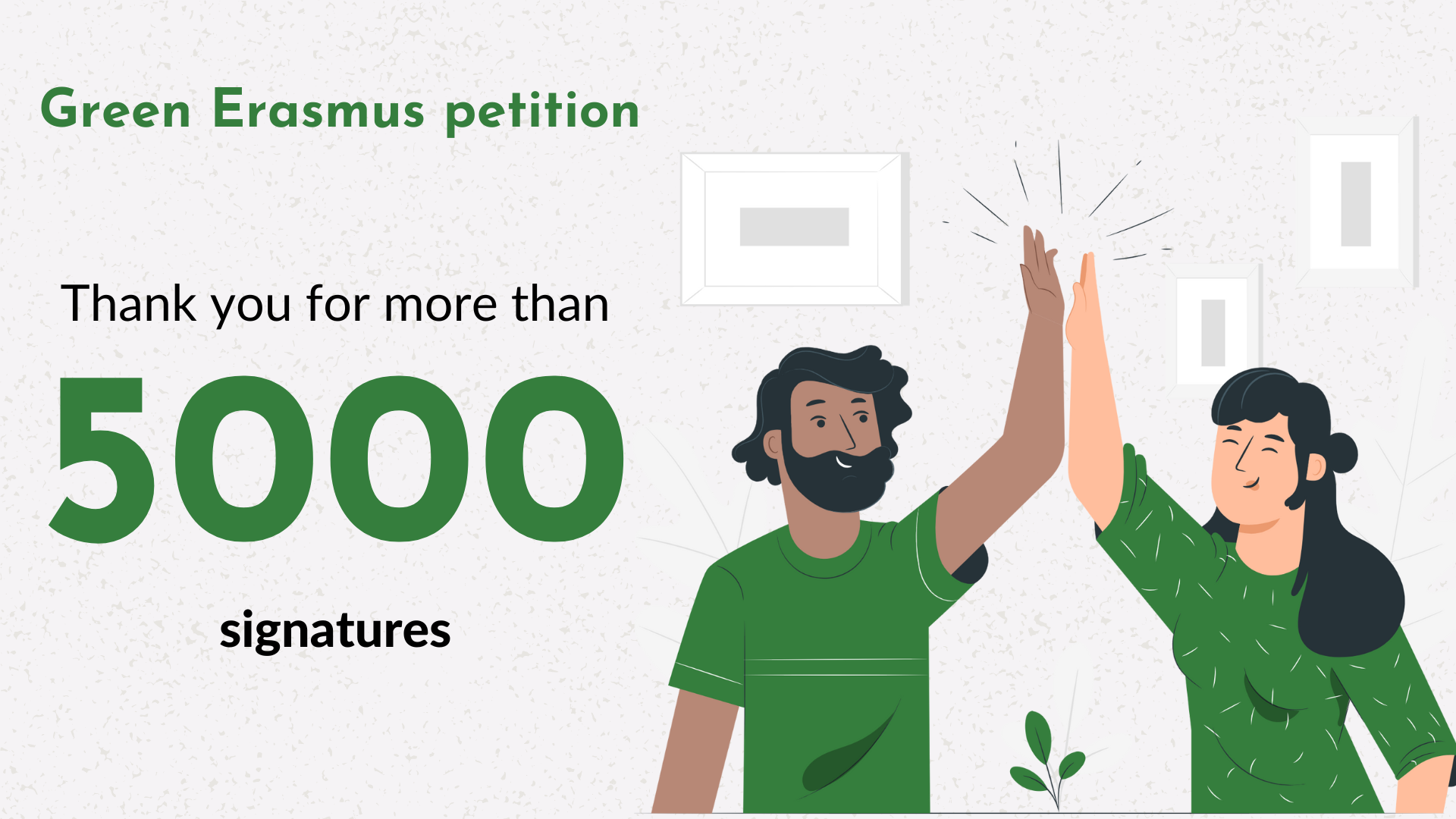 Tuesday, 1 August, 2023 - 14:16
The Erasmus+ Mobility programme can be a life-changing opportunity and experience for the hundreds of thousands of students who participate in it every year across Europe. It has contributed to a more integrated and inclusive European continent. On the flip side, it is important to recognise the potential challenges of the programme, such as its environmental impact. It's been estimated that between 2014-2020, the Erasmus+ programme generated between 414,000 and 672,000 tonnes of CO2 (or equivalent), and with the intention to increase participation, the footprint is likely to increase further unless significant action is taken.
The Green Erasmus project wants to see significant changes in the mobility patterns of university students going on an Erasmus+ exchange to reduce the environmental impact of the programme.
During the course of the project, we ran a petition calling for:
Increasing the current €50 to a universal top-up to individual support of up to €250 for green travel, proportionate to the distance covered
And increasing the current 4 days up to 7 days of additional individual support covering additional subsistence costs and/or accommodation needs linked to green travel - for the round trip
Introducing this support will allow students from all destinations to travel to their host country, and return back home via greener land or sea transport, without being out of pocket. At the same time, students will be able to experience more of Europe and what it has to offer – it's about the journey, not just the destination! Only if we start to consider the way we travel can the growing damage to our natural world and human health be tackled.
The petition was signed by 5257 people, demonstrating the strength of support for these asks, and more broadly the desire to see a greener Erasmus+ programme.
Next steps
The petition was closed in July 2023. To work towards achieving the calls, the Green Erasmus project:
Will publish a policy recommendations report which will be sent to policymakers at DG EAC - European Commission, European Parliament, and the Council of European Union. It's also been published on the Green Erasmus project website.
Has held a conference in Brussels in June 2023 to discuss issues related to the asks of the petition. This was attended by 70 stakeholders including representatives of EU institutions, such as the Directorate General for Education and Culture and the Joint Research Center, NGOs, HEIs, and student organisations volunteers. You can view a recording of the event online.
Why are we asking for this change?
According to Green Erasmus research, 75% of students choose to travel to their Erasmus destination by plane, seeking to benefit from very cheap and convenient air travel compared to greener alternatives that are often more expensive and time-consuming. Flying is the most climate-damaging form of travel: planes emit massive amounts of damaging CO2, nitrogen oxides, aerosols and water vapour. For example, a flight from Barcelona (Spain) to Cologne (Germany) would emit 0.16 tonnes of CO2, however, a train ride would only emit 0.01 tonnes of CO2. However, concern about climate change amongst students is widespread; according to our Green Erasmus research, 94% of students said that they are concerned about it.
Systemic change of our infrastructure is needed to decrease air travel and therefore carbon emissions across Europe:
Cheaper train, bus, and sea travel instead of subsidies on air travel
Better high-speed train connections across Europe
More integrated train and bus networks throughout Europe including an integrated booking platform
More accessible network fit for purpose for disabled travellers
These changes would all support Europeans to make more sustainable travel choices and are the ultimate goal. But we need action now! Green Erasmus is calling for improved support and incentives for university students to choose greener alternatives to air travel when travelling to and from their Erasmus+ destination. The current Erasmus+ guidance is starting to recognise the programme's negative environmental impact by including sustainability among the programme priorities and providing extra funding to students who opt to travel sustainably - the "green top-up'', a compensation of €50 and 4 additional days of individual support to cover travel days. This however does not go far enough.
The financial incentive doesn't cover the often high costs and longer duration of land travel
Issuing the top-up requires additional administration by Higher Education Institutions
Guidance on when and how the top-up can be issued is unclear
Petition signatories by stakeholder type
| Stakeholder | Number of signatories |
| --- | --- |
| Student | 3999 |
| Working in the higher education sector | 724 |
| Other | 389 |
| Working elsewhere in the education sector | 155 |
Petition signatories by country (top 10 countries)
| Country | Number of signatories |
| --- | --- |
| Germany | 822 |
| Italy | 524 |
| Belgium | 434 |
| France | 381 |
| Spain | 361 |
| Czechia | 276 |
| Netherlands             | 268 |
| Portugal | 212 |
| Poland | 187 |
| Greece | 166 |
| Hungary | 146 |
| Austria | 143 |
| Romania | 136 |
| Turkey | 106 |