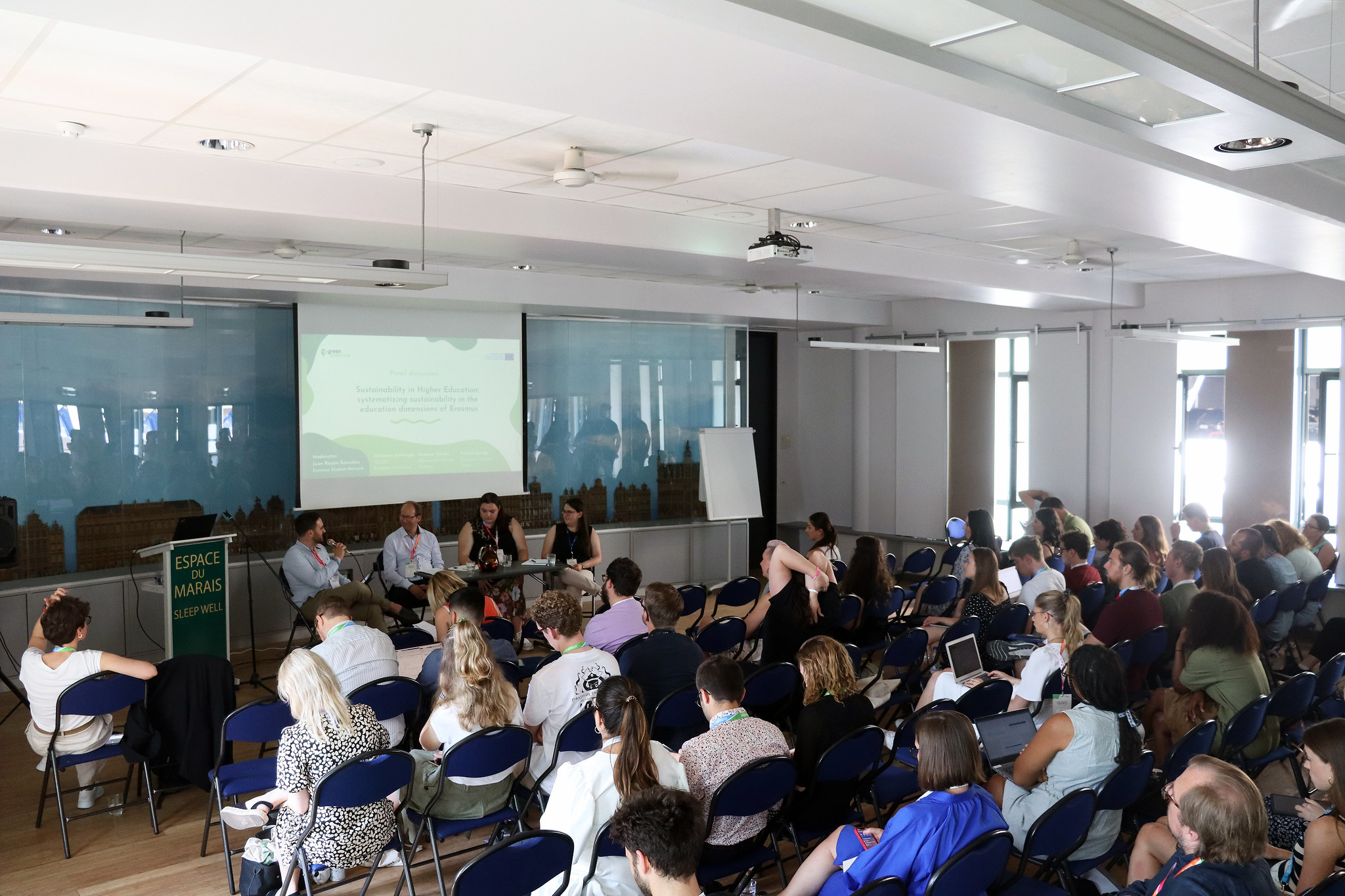 Monday, 3 July, 2023 - 15:54
Discussions, recommendations, and visions for a better, more sustainable future of higher education filled the room of the Green Erasmus project final conference on the 16th of June, in Brussels. 
The conference gathered representatives of EU institutions, NGOs, HEIs, and student organisations volunteers who had a diverse and fruitful discussion about the future of sustainable internationalisation and education on sustainable development. The presentation of initiatives and good practises across Europe, of the GreenComp framework - one of the sector's key documents, especially in the light of the European Year of Skills - and a lively panel discussion accompanied the introduction of the Green Erasmus's project final results such as:
The Green Erasmus Portal, an online self-learning tool that provides tips and tricks to live a sustainable Erasmus exchange

The Educational framework on environmental sustainability (to be published soon)

Check out the agenda to see the speakers and their contribution
Towards the end of the conference and through a breakout session, participants engaged in passionate discussions to share visions and propose concrete solutions to build a greener Erasmus experience at the campus, teaching&learning, and community levels. Those inputs will inform the policy recommendations that the Green Erasmus consortium is currently finalising. 

Subscribe to the Green Erasmus newsletter and stay tuned to read the Green Erasmus policy recommendations
The conference was preceded, on the 15th of June, by an informal get-together focusing on transport and sustainable travel options in Europe within the framework of the Erasmus+ Salon.
A panel discussion with representatives from the student and transport sector stimulated the debate among the attendees and touched upon the transport dimension of the Green Erasmus project.  
Photos from the event are available on ESN International's Flickr.
The Green Erasmus Project, started in 2021 and headed to its end, strives to improve the environmental sustainability of the Erasmus+ Programme, raise awareness across the European Higher Education sector about the importance of sustainable internationalisation, and empower student organisations to be the agents of change. The Erasmus Student Network leads the project's consortium composed of the European University Foundation (EUF), European Students' Union (ESU), Université Libre de Bruxelles (ULB), Technische Hochschule Köln (TH Köln) and Students Organising Sustainability UK (SOS UK).