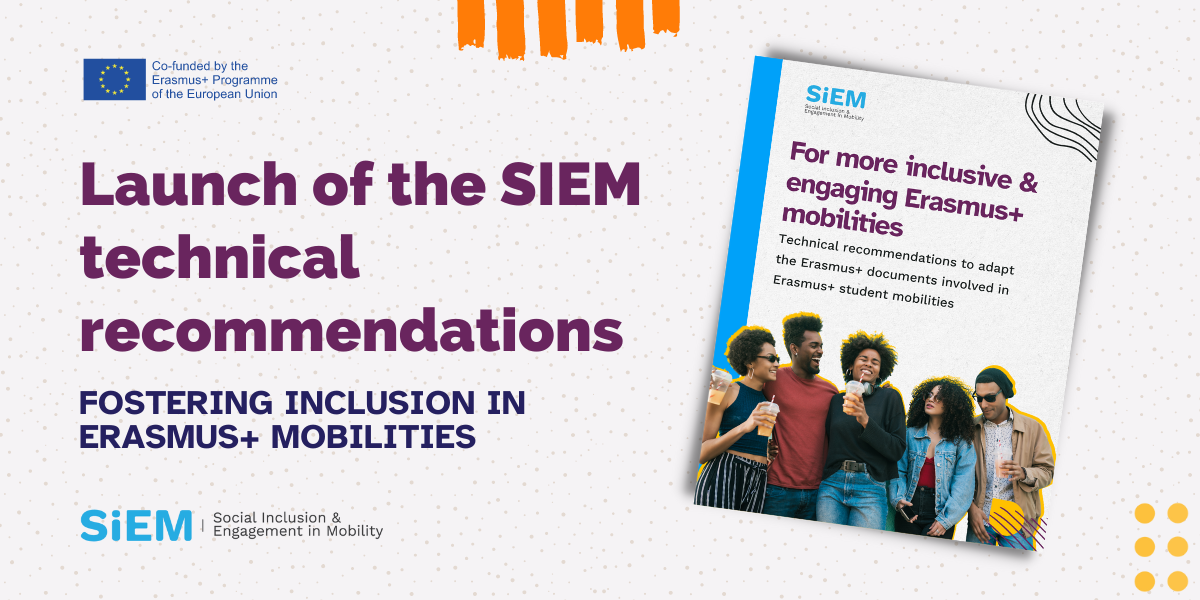 Wednesday, 26 October, 2022 - 15:21
For more inclusive and engaging mobilities: Launch of the SIEM technical recommendations to foster inclusion in Erasmus+ mobilities
As part of the Social Inclusion and Engagement in Mobility project, the Erasmus Student Network and the SIEM project consortium are launching the SIEM recommendations, aimed at reviewing the documentation involved in Erasmus+ mobilities to make Erasmus+ Higher Education exchanges more inclusive.
The recommendations build on the findings of the SIEM Research Report and other existing data sources, such as previous ESN Surveys. They are built on the experience of the Erasmus Student Network and the SIEM consortium representing the Erasmus student experience.
This document seeks to make a comprehensive review of most of the key documents and processes involved in Erasmus+ mobilities, dividing them into three categories:
Guidance and implementation: Documents that create the framework for the organisation of the mobilities and Erasmus+ projects overall. Here, we have included the Erasmus+ programme guide and the national inclusion action plans.

Monitoring and evaluation: In this section, we have included the documents that are used to either monitor or evaluate the mobility projects or the experience of participants.

Student documents: These are the documents with which students interact directly, either to gather information or to define the conditions of their mobilities.
The recommendations target the European Commission, Erasmus+ National Agencies, Higher Education Institutions and other policymakers and stakeholders interested in Erasmus+ and mobility programmes.
The recommendations can be found here or on the SIEM project's website, among the other documents created during the project, under the "Research" tab.