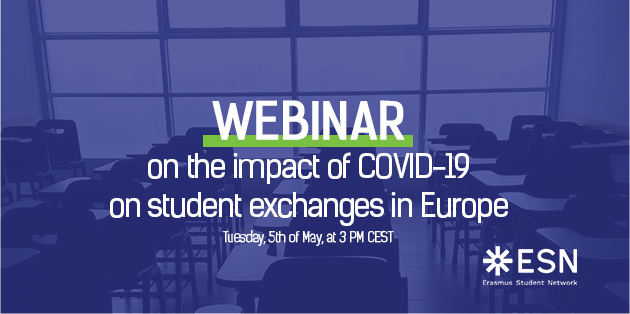 Wednesday, 29 April, 2020 - 10:57
Following the release of the biggest research report on the impact of COVID-19 pandemic on student exchanges in Europe, the Erasmus Student Network is hosting a webinar to discuss the implications of the research results as well as further steps that can be taken in order to best support international students in the future. During the webinar, we will host colleagues from the European Commission's Directorate-General for Education and Culture (DG EAC). The webinar will be recorded and made available online afterwards.
The webinar will take place Tuesday, 5th of May, at 3 PM CEST. Higher education practitioners and policy makers in the field can register on the following link.
Later update:
Thank you for your participation!
You can watch the recording of the Webinar and download the presentations here.