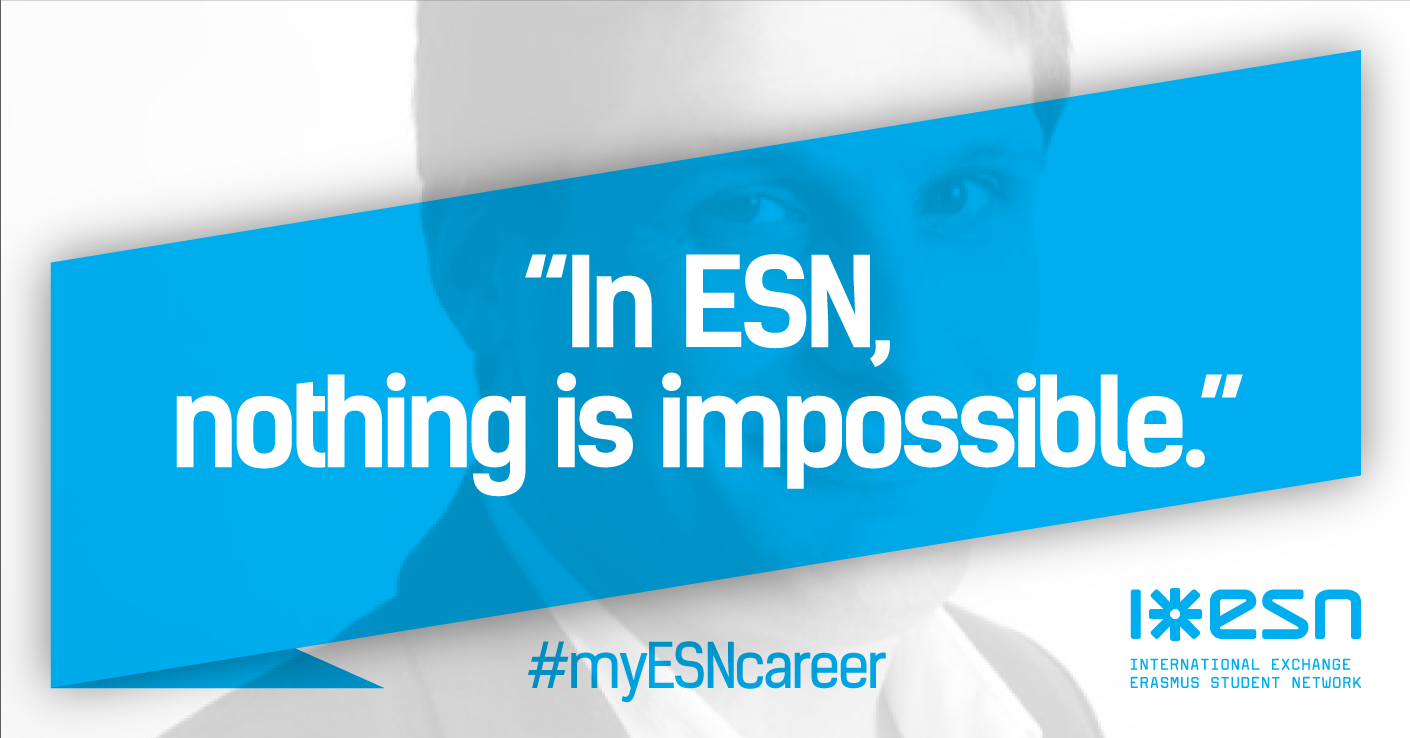 Tuesday, 16 February, 2016 - 16:40
Every success story begins with a first step forward and things following naturally. As a volunteer experience, ESN has been a stepping stone for many, now successful, individuals. This was also the case for Damien Lamy-Preto, who works for Education First in France as a Business Developer.
After his Erasmus exchange, Damien decided to join ESN in addition to his studies and work in architecture, but ESN completely changed his career. He has been involved in ESN for almost ten years, starting from a section member, to the section President of ESN Nancy. Later, he continued his journey as the National Treasurer of ESN France and lastly he became the Treasurer of ESN International.
Through his experience in ESN, Damien developed an entrepreneurial spirit. He believed that developing himself as much as he did was only possible due to the love he has for the mission and vision of ESN. So much of what he achieved was due to the effort he put forth and his belief that ESN could be great.
His hard work and involvement was rewarded with trust from the network, which allowed him to further learn and develop as he was working to keep that trust. After years of experience, on all levels, he is still convinced that ESN can always do better if the belief and trust in ESN, and its members, continue to grow.
Thanks to his volunteer experience in ESN, Damien pursued a career that was very different from his studies. He compares his choice with other students who followed an MBA path to build up their careers and now when he looks back he believes he made a good choice. In his own words:
"In ESN, nothing is impossible. The work fields of ESN are really broad: Education, Management, Finances, IT and so on. I found a real possibility to grow personally and professionally and thanks to the size of the Network this was a long and fruitful adventure."
In ESN, he had the chance to work with many different institutions and companies which helped him build extensive personal relations and networks. He developed numerous skills in finance, languages, education management, and leadership, but above all, he values his friendship skills, which he believes will be essential in his future.
He is convinced that if it hadn't been for ESN he wouldn't have had these vast opportunities to improve himself at the level he did and he would have also never gotten in touch with Education First, where he works now.
Damien's experience is a great example for every volunteer in ESN. From time to time, your volunteering work might not always seem important to you, or be relevant to your field, but you are learning a lot and developing competences you do not even realise at the time. All of this self-improvement will be helpful in your near future.
ESN is so much more than meets the eye. Search no more for what is relevant. By adding value to the network, you will also be adding value to yourself. ESN itself might not be the reason a company will employ you, but the skills and experiences you acquire from volunteering in ESN will. 
#myESNcareer
Written by: Jesús Escrivá Muñoz, Sara Panis, Stefan Jahnke
Edited by: Cüneyt Akso