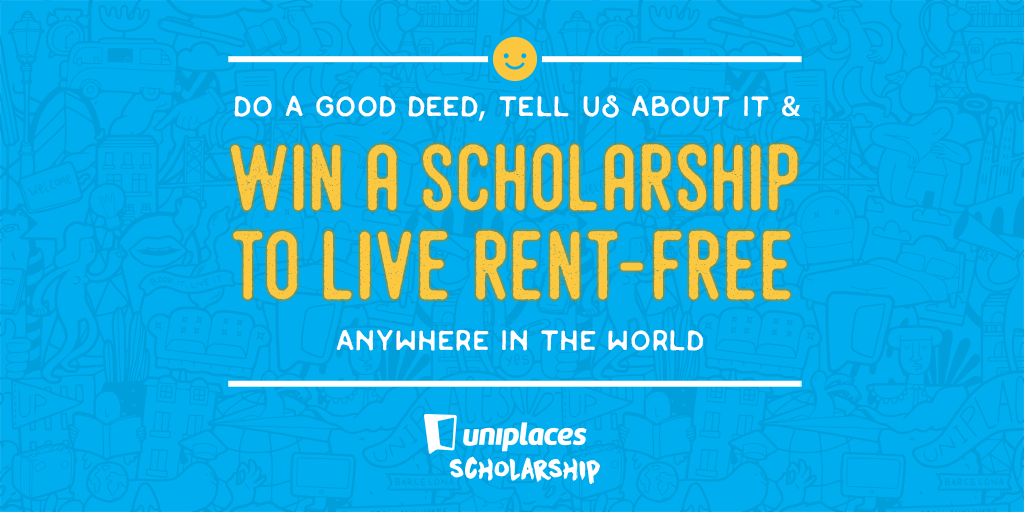 Sunday, 3 July, 2016 - 15:48
The Uniplaces Scholarship launched in 15 April is looking to repay kind students with whole semester abroad
High-profile international organisations in Youth and Education sectors are backing Uniplaces in the 3rd edition of the world's most positive Scholarship. ESN, UNICA, EYCA, and the Class of 2020 are all powering the push for more kindness around the world - and for that kindness to be rewarded.
The Uniplaces Scholarship is the only global programme to support international youth and student mobility by sponsoring accommodation. In 2015, the Scholarship funded 15 students to go study in places like Singapore, New York and Sydney. The previous edition of the Scholarship had over 9000 participants, from over 900 cities.
A Unique Scholarship
The Scholarship is the only one of its kind. It isn't awarded on the basis of ethnic origin, academic results or sports skills. From its first edition, the Uniplaces Scholarship has been rewarding students who are kind. Furthermore, instead of being a monetary prize, or paying tuition fees, the winners of the Uniplaces Scholarship will have one semester of accommodation paid.
Students from anywhere in the world can apply for the scholarship to help with the mounting costs of university. To win this scholarship, applicants have to describe in any medium what good deed they do or have done for others.
A judging panel that includes members of Erasmus Student Network, European Youth Card Association, The Class of 2020 and UNICA will choose the fifteen most original and authentic applications.
2015 Scholarship winner Radoslaw Czekan commented:
"This was the opportunity to live my dreams. The Scholarship enormously increased my studies in Lisbon and helped me to focus more on my passion and travelling. Awesome!";
Uniplaces founder Ben Grech explained:
"Every element of this campaign is designed to help not just those who win the scholarships, but thousands of people across the globe. It's a simple mechanic that will foster random acts of kindness and serve to highlight young people who have been doing great deeds without wanting or expecting any reward for it."
Endorsement
The 3rd edition of the Scholarship marks the introduction of the Recommend a Friend feature. Recognising that some of the kindest people are also the quietest, the Scholarship allows these anonymous, everyday heroes to be recommended by their friends, family, colleagues or teachers.

Applications can be submitted until 15th July. Anyone can head to the website to sign up to take part, vote for their favourite experiences. The 15 winners of the Scholarship will be announced soon after submissions have closed.