Thursday, 25 June, 2015 - 16:53
American Tourister, part of the Samsonite International S.A., will together with the Erasmus Student Network offer Erasmus students access to quality, travel-inspiring luggage and suitcase solutions.
With student mobility steadily increasing, young people find themselves today frequently in need of travelling solutions such as transportation, accommodation, insurance, and more. American Tourister and the Erasmus Student Network (ESN) have decided to cooperate to assist students with one of these solutions: the safe, comfortable and easy transportation of personal belongings – luggage!
"Most of us having done an exchange period abroad know the challenges that student will for certain encounter: everything from finding accommodation to surviving language barriers." said Stefan Jahnke, President of ESN. "It is ESN's core goal to assist students and facilitate this international process in any way we can. I am therefore extremely happy about our cooperation with American Tourister, through which we will be able to assist international students even further."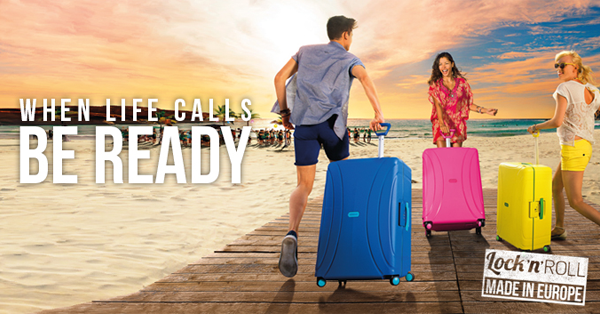 What can you expect as an international student? American Tourister has decided to offer all ESNcard holders a 20% discount on all its products. The offer is also available to Erasmus students that send a copy of their Erasmus Acceptance Letter to ESN. The offer is available in 16 European countries, requires a minimum purchase order of 69€ and can be accessed on American Tourister's page on the ESNcard.org website.
In addition High Sierra, Samsonite's bag and backpack brand, will also be offering students a 30% discount on all its products. The offer is available to any student in the 14 European countries where High Sierra operates, with a minimum purchase order of 39€. Also the High Sierra orders are made through High Sierra's page on the ESNcard.org website.
Founded in 1933, American Tourister has been offering young, dynamic and reliable luggage for over 80 years, setting the standard for fun-loving luggage collections that excel in quality. The colourful products offer fantastic value for money and are available in over 90 countries worldwide, making American Tourister one of the leading luggage brands in the world. Ideal for young, enthusiastic travellers eager to discover the world, American Tourister inspires adventurous people to express themselves, explore new horizons and be ready to set off when life calls. For more information visit http://americantourister.com
The sports brand High Sierra® was founded in the USA over 35 years ago by the outdoor fan Hank Bernbaum. High Sierra offers a wide assortment of active outdoor gear, urban backpacks and rugged luggage. Innovation, functionality, design and especially excellent quality for a moderate price are the key characteristics of all High Sierra products. Beyond that, High Sierra focuses on promoting new trendy sports that have influence on the culture and lifestyle of the younger generation.​ For more information visit http://highsierra.com
Erasmus Student Network is the biggest student organisation in Europe, founded in 1989 to support and develop student exchange. ESN is present in more than 480 Higher Education Institutions in 37 countries involving around 14,500 volunteers offering its services to 190,000 international students. ESN works for the creation of a more mobile and flexible education environment by supporting and developing student exchanges on different levels and provides an intercultural experience also to those students who cannot access a period abroad ('internationalisation at home'). For more information visit http://esn.org