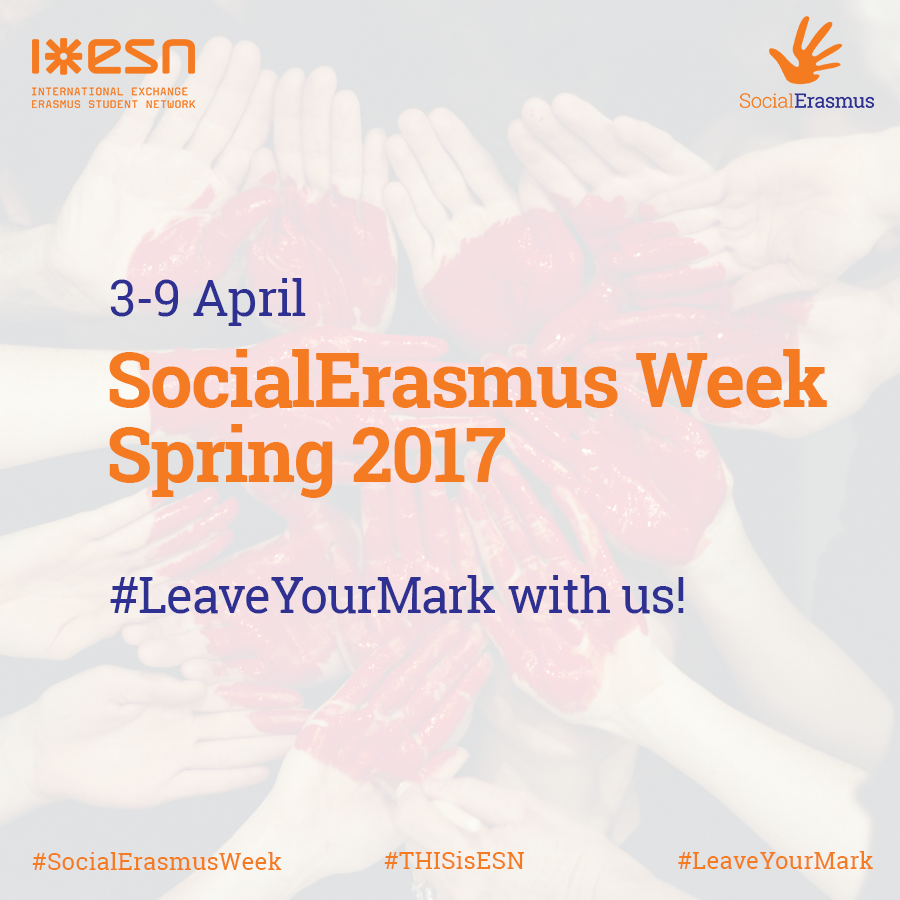 Tuesday, 4 April, 2017 - 13:35
ESN is delighted to host the Spring 2017 edition of SocialErasmus Week during the 30th anniversary of the Erasmus programme, to show students and young people alike how student mobility is enriched by volunteering.
SocialErasmus Week is organised twice a year by the coordinators of the SocialErasmus project, to unite both international and local students across Europe in activities and events that will make a positive change in their local community.
From 3rd to 9th April 2017, project coordinators of 40 countries will host events to raise awareness and take action under the 8 causes of SocialErasmus: animals, disasters, discrimination, education, environment, health, poverty, and violence.
While celebrating and enjoying their Erasmus experience, students and young people will have the chance to take part in activities such as food drives and donations, fundraisers, clothes donations, animal shelter visits, educational workshops, and many more.
Some of the highlights from the past editions of SocialErasmus Week were activities such as the Nenäpäivä Charity Bake Sale by ESN Jyväskylä (Finland), Unite Against Racism by ESN Bilbao (Spain), Playdate by ESN Tartu (Estonia), Cycling Without Borders by ESN Odense (Denmark), Eko Kosice by ESN Kosice (Slovakia), and Dash The Trash! by ESN Eger (Hungary).
The SocialErasmus project combines Erasmus exchange and youth volunteering with the slogan 'Leave Your Mark', inspiring local and Erasmus students to enrich society by taking part in the activities.
'Thanks to the Erasmus programme, we have such amazing opportunities to help students make the most of their mobility, and to make society better for everyone. I can't think of a better way to celebrate the 30th anniversary of Erasmus than by showing how it benefits both the students and the local society as well.'
- Gizem Pelin Altun, Project Coordinator

To follow the project and activities of SocialErasmus Week in your country or city, search social media for the hashtags #SocialErasmusWeek, #LeaveYourMark and #SocialErasmus.