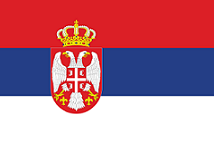 Tuesday, 12 February, 2019 - 12:31
As of February 2019, Serbia is now an official Programme Country for Erasmus+. What does this mean for Serbia and for the rest of Europe? Well, the benefits are numerous. Serbian Higher Education Institutions (HEIs) will now be able to sign direct bilateral agreements with other HEIs that participate in the Programme. This will hopefully lead to more Serbian students going on an exchange in the rest of Europe – and also to more students from the rest of Europe going on an exchange in Serbia.
Apart from this, Serbian HEIs will now have the opportunity to participate in all the other parts of the Erasmus + Programme as coordinators and partners alike, which was not possible until the agreement.
Being a Programme Country for Erasmus + also means an increased budget for financing projects and wider possibilities for youth organisations and for those employed in the field of education, as commissioner Navracsics said: "I am very pleased that we are today welcoming Serbia as a fully-fledged Erasmus+ Programme country, this new status will allow Serbia to participate in more actions in the fields of higher education and youth, start their involvement in sport, vocational education and training as well as actions for school and adult education staff."
Serbia is an active member of the Erasmus + Programme since its beginning, participating through its HEIs in projects worth over 67 million EUR, and the number of students, teaching/non-teaching staff that have participated in exchange programs in the EU countries through Erasmus + is over 5800. This alone provides an immense contribution to the Serbian education system. The number of foreign Erasmus exchange students coming to Serbia is somewhere over 3000. Serbia is a leading country in the Western Balkans in regards to the approved projects, amount of funds received and the number of people participating in exchange programs in European countries.
In 2018 alone, youth organisations from Serbia received over 2 million EUR for 24 capacity-building projects, which is two-thirds of the total funds provided for this region. Currently, there are around 300 projects which involve schools, youth organisations, universities, companies etc. These projects offer opportunities for around 2,000 students and over 300 teachers, pupils and youth workers a year. Thanks to the newly acquired status of a full-fledged member, Serbia will now increase its opportunities for professional training of its academic community abroad, while also expecting an increase of incoming students from Europe.
If you are thinking about going on an exchange to Serbia, we recommend you to contact ESN Serbia using their website or their Facebook page.
Picture credits: Jeff Ataway (https://bit.ly/2UTKhDG)