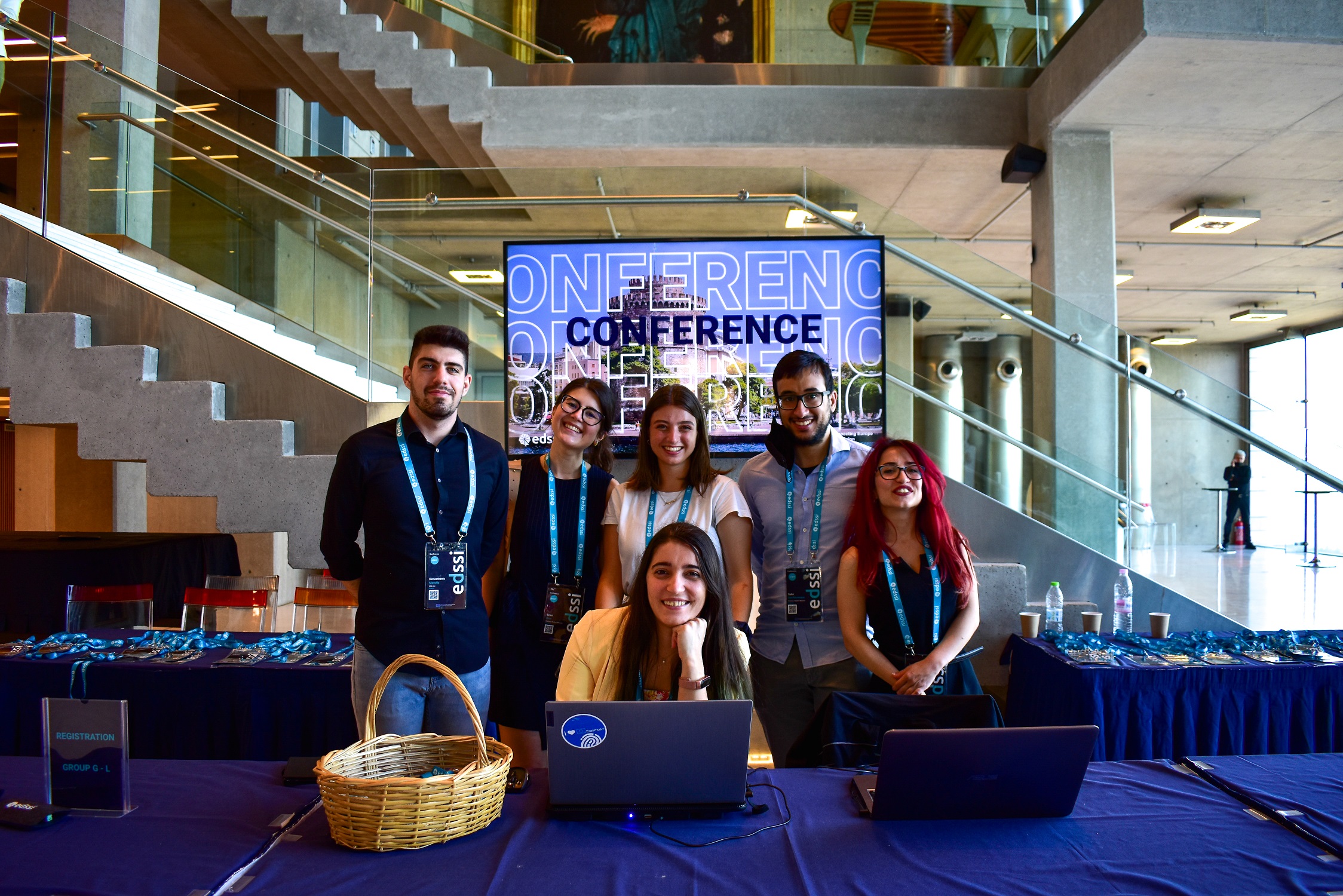 Thursday, 14 July, 2022 - 13:34
On the 18th of May 2022, more than 150 participants from 22 European countries gathered in Thessaloniki to learn the outcomes of the European Digital Student Service Infrastructure (EDSSI) project.
ESN co-organised the event with the help and support of the ESN volunteers from Thessaloniki, where high-level stakeholders gathered, after more than two years of online meetings and conferences, resulting in networking and inspiring conversations about the future of the Erasmus+ digitalisation.
The plenary session was attended by more than 400 stakeholders with the participation of the Rector of the Aristotle University of Thessaloniki Prof. Nikolaos G. Papaioannou, and Rehana Schwinninger-Ladak, Head of Unit of DG CONNECT from the European Commission. Ms Schwinninger-Ladak emphasised how the EDSSI project has been responsible for the maintenance and further development of the Erasmus+ digitalisation tools and infrastructure for the past two years.
What's in it for the students?
The input of ESN within EDSSI has contributed to making the work of the project more relevant and impactful. It is, in fact, essential that technical solutions for the improvement of the international mobility digital infrastructure take the real needs of students as the starting point and this is where ESN steps in by representing students and co-creating with the other partners the solutions that will positively impact all mobility students and making Erasmus+ mobilities more accessible.
The participants in Thessaloniki got to learn how the EDSSI project contributed to the improvement of the Erasmus Without Paper network. During the parallel workshops, the attendees deepened their knowledge of the role of Student Service Providers (SSP) and on the authentication and identification of students in mobility management.
The conference also unveiled technical details regarding the work of EDSSI to bring together institutions via the existing digital tools and infrastructures that support international mobility (like the European Student Identifier Erasmus Without Paper, the SSP module that will allow Higher Education Institutions to share information with the university and students about services for students, and more).
The EDSSI project also contributed to the dissemination of the European Student Identifier. Until now, hundreds of universities have deployed the unique identifier, ensuring safe and secure data exchange during the digital administration of student mobility. The EDSSI project also gives all Erasmus Charter for Higher Education (ECHE) holder universities the opportunity to deploy the ESI for their students, mainly via EdP of last resort.
What this all means is that small Higher Education Institutions that might be hindered by their limited resources or capacities will be supported by the ESI, ensuring that no one is left behind whilst enjoying the Erasmus+ program which will in turn be made accessible to all!
If you want to know more about EDSSI, visit EDSSI.eu.