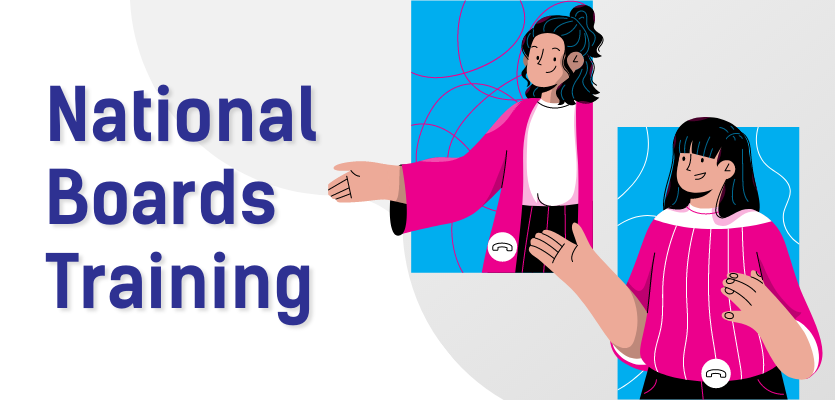 Tuesday, 11 May, 2021 - 14:02
From the 18th to the 21st March, the National Board members of the Erasmus Student Network's national member organisations had the opportunity to take part in a training event focused on the topic of social impact. National Boards' Training: Social Impact aimed to empower the volunteers in relevant positions in their organisations to work together to achieve impactful change in the societies through their volunteers, as well as local and international students.
Erasmus Student Network is an activity-based organisation - this means that we aim to fulfill our mission and vision, as well as uphold our values in the activities for local and international students facilitated in local communities by our volunteers. Our activities are a reflection of the causes we stand by, as well as policies we actively try to contribute to. We try to engage the international students in the local communities in order to better integrate them into the life of the said community during their mobility period, as well as to raise awareness of the challenges that the community faces. Thanks to the opportunities for interaction and dialogue with the local students, international students become more aware of the deeply rooted issues and can reflect on how those issues are perceived in their own communities back home. This is how we create global citizens who become more aware and better understand global issues, and how communities can learn from each other to tackle them. However, in order for our activities to truly have an impact on society, we need to know why we organise them and which issue we would like to touch upon.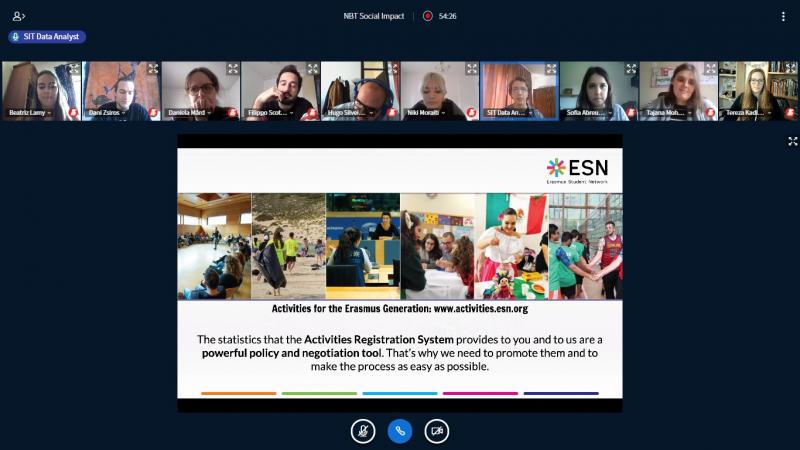 During the training, the participants had the opportunity to develop a project-oriented mindset towards the activities done on the local level, how they can better support their local organisations in this, and how various fields of work in ESN influence how impactful ESN as organisation is on society. Participants have joined one of two tracks - HR & Activities, or Policy & Communication. Each of the tracks was designed keeping in mind the competence that the volunteers should develop in specific fields to work towards creating more impactful initiatives in their national organisations. 
"Just before my actual mandate started I got so lucky to join the NBT. As the main focus of my position as Vice NR of ESN Germany is the Social Impact, I got a lot of interesting insights that I will be able to use during my mandate. Thanks to the lovely Organisation Team the whole weekend was very well structured."

Leon Hill (ESN Germany)
In the HR & Activities track, the participants discovered the importance of impact as a core element in all of ESN's work and activities and found the connection between their personal values, the causes and values of ESN, as well as the needs of their local communities. Furthermore, they had the chance to look into how HR practices can and should be used strategically to recruit and motivate volunteers towards implementing impactful initiatives. Finally, participants got to practice designing and planning targeted activities for international students with a focus on local impact.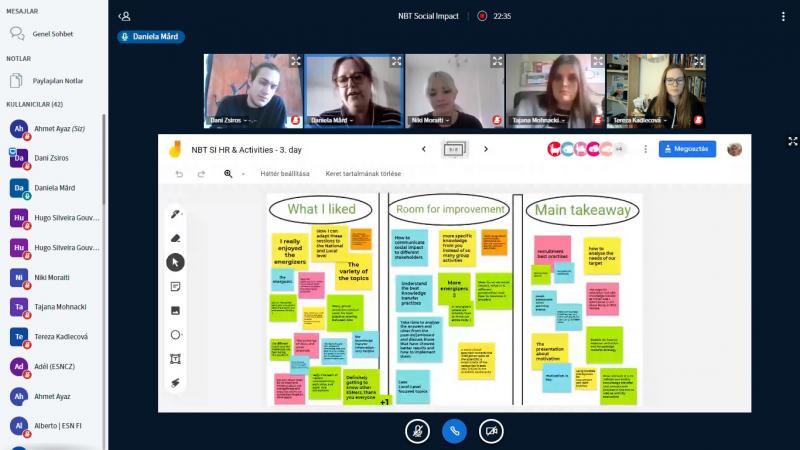 In the Policy and Communication track, participants focused on the importance of understanding the realities that their local organisations work in and shared best practices on how to work with them based on their priorities and aims as an organisation. The participants had an opportunity to identify one issue in the society that they would like to tackle and that they feel that their organisation can actively contribute to, develop a step by step plan of how that can be done and what they need to do to turn that plan into a reality. They also had an opportunity to make the stakeholders relevant for their issue, identified an existing policy on the local/national/regional/European/global level, and learned how to create policy communication messages to make the policymakers and their audience more aware of their contributions. 
"Considering that this is my first mandate on the national level, seeing the faces behind all the emails and having the opportunity to discuss different realities while getting expertise related to Social Impact was very much appreciated. Hopefully, some of the ideas that were born in the NBT will be implemented in the near future."

Leonor Alcaçarenho (ESN Portugal)