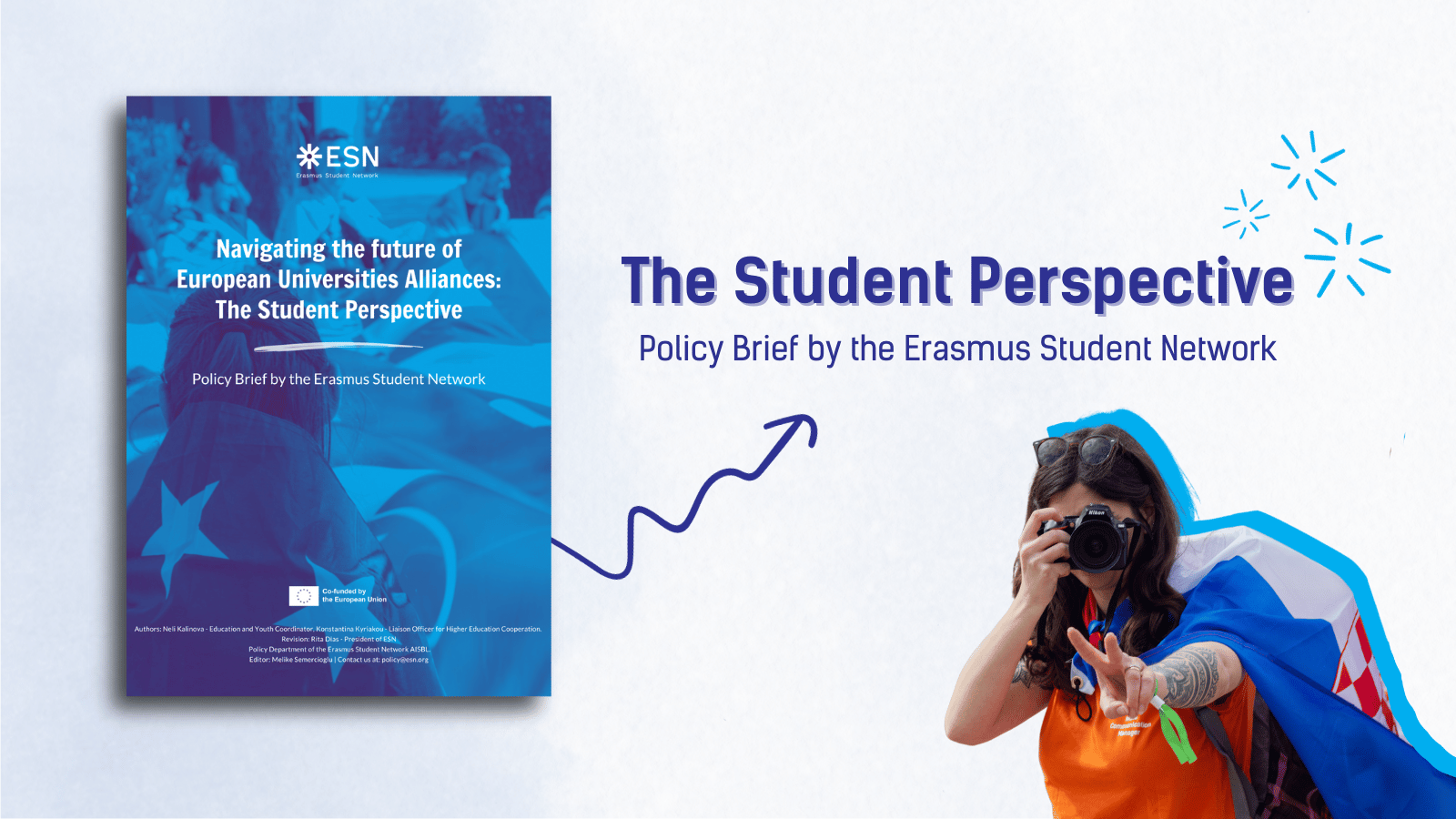 Thursday, 12 October, 2023 - 12:11
During the 14-15 of September, the Erasmus Student Network (ESN) participated in the II Forum of European University Alliances in Barcelona. Hosted by the Spanish Presidency of the Council of the European Union and the Spanish Ministry of Universities, this forum served as a dynamic gathering, bringing together representatives from all 50 alliances alongside representatives from the European Commission and Member States. The forum facilitated the exchange of innovative ideas and debate on crucial issues impacting European alliances.
Following this event, ESN's growing engagement in the Initiative, and the launch of the new call for proposals for European Universities from 3 October 2023, ESN has prepared a Policy Brief on Navigating the Future of European Universities Alliances: The Student Perspective.
The European Universities Initiative (EUI) aims to transform higher education by enabling students to obtain degrees by studying in various European Union (EU) countries. ESN actively supports the objectives of this initiative through its central role in promoting common internationalisation values, nurturing a shared identity, and fostering global competitiveness in the education field.
In previous contributions, ESN has highlighted the challenges encountered by mobile students, shedding light on persistent issues such as access to opportunities, financial support, and recognition. ESN acknowledges the potential of the EUI to promote seamless mobility by removing barriers such as grant portability and the mutual recognition of learning achievements. Furthermore, the document emphasises the necessity for improved communication and outreach strategies to increase students' awareness of the existence of the EUI. As noted by the preliminary results of the XV ESNsurvey, only 18% of the non-mobile students know about the European University Alliances.
Student engagement is another focal point, highlighting the importance of creating well-rounded student governance structures within the EUI alliances. These structures promote heightened student participation in the development of alliances, stressing collaboration with student organisations to disseminate information and enrich the overall student experience. Additionally, the document tackles the sustainability of the EUI, advocating for a 7-year funding pathway, providing clarity on the role of the European Charter for Higher Education (ECHE) in monitoring alliances, and underscoring the significance of seamless mobility, inclusivity, and openness.

ESN offers a concise yet comprehensive overview of the European Universities Initiative, highlighting its objectives, societal impact, student mobility challenges, and the imperative for enhanced student engagement and outreach. This policy brief also acknowledges the insights gained from the internal survey conducted by ESN, serving as a valuable resource for understanding the multifaceted dimensions of this transformative educational endeavour within the EU.