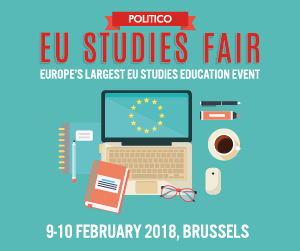 POLITICO's EU Studies Fair is the largest educational and networking event in Europe focused on graduate and postgraduate programs in EU studies, international relations, business, economics, public policy and law.
Since 1999, the EU Studies Fair has been a reference for over 50 world-class academic institutions – from Europe, United States, New-Zealand and Asia – to recruit top students from across the world for graduate and postgraduate programs.
The EU Studies fair also features orientation seminars, university spotlights and contests.
Day 1 - Friday, February 9, 2018 (FULLY BOOKED)
Visit to the European Parliament in Brussels
Visit to the Committee of the Regions in Brussels
Networking Activities
Day 2 - Saturday, February 10, 2018
Exhibition Day from 10 AM to 4 PM (unlimited space - open to everyone at any time)
Opening ceremony by an EU Official Senior Representative
19th EU Studies Fair - Meet over 50 leading universities in one place
University spotlight by the Johns Hopkins University SAIS (US/IT)
University spotlight by ESCP Europe (FR)
University spotlight by the DG Education and Culture, European Commission
Seminar on Brexit by the Canterbury Christ Church University (UK)
Orientation seminar - "Career Opportunities with the European Institutions" seminar hosted by the European Personnel Selection Office (EPSO) - Koen Hendrix
Orientation seminar - "How to make the right choice of EU Studies" by the University Association for Contemporary European Studies (UACES)
Contests and networking activities
Register now for the chance to win a brand new Huawei Y3II*! 

This event is free of charge for visitors and is dedicated to help them find the academic program that suits their needs and interests.
*You have to attend the event on the 10 February 2018 in order to take part in the prize draw.