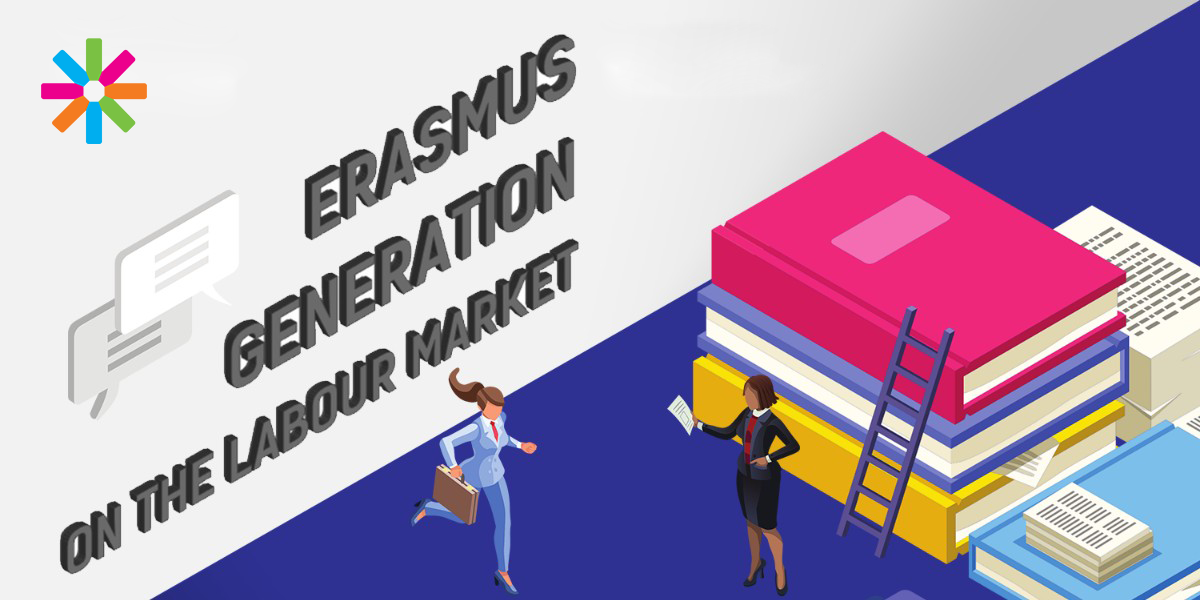 Wednesday, 2 June, 2021 - 12:24
From 20 to 21 May, the Erasmus Student Network organised the online conference Erasmus Generation on the Labour Market. The main topic of the conference was employability and the correlation between mobility and community engagement experiences and the employability of students and youth.
The conference was open to the Higher Education Institutions and International Relations/Erasmus+ Office representatives, National Agencies/National Erasmus+ Office representatives, students and student representatives, youth workers and youth representatives, and volunteers who are interested in the topic of mobility and its benefits in an academic and career orientation context, as well as in the context of personal and professional development. Around 100 participants joined the presentations, panel discussions, and sessions held by experts, youth workers, youth organisation representatives, and Erasmus+ alumni.
@N_Ripmeester "Employers told me: Yes, we like those that have a mobility experience, but only if they can tell us what they learn during it."️

To translate #MobilityExperience into #career success, students should
1️⃣understand its value
2️⃣reflect on experience
3️⃣implement pic.twitter.com/GdZZWztUEf

— ESN International (@ESN_Int) May 20, 2021
On the first day of the conference, Dr. Adriana Perez Encinas, Project Coordinator and Lecturer at the Universidad Autónoma de Madrid, talked about the competence development of exchange students through community engagement. Wim Gabriels, Policy and Project Manager of ESN International, tackled the creation of a framework for community engagement activities for exchange students, while Nannette Ripmeester, Director at Expertise in Labour Mobility held a session for students on including their mobility experience on their CV. Furthermore, Erasmus+ alumni, Anna Kawalec, Pikria Elizarashvili, Rebecca Bonello Ghio, Iona Murdoch, Margarita Kuvaldina, and Petya Georgieva took part in a panel discussion and shared how their mobility experience supported their career development.
What Erasmus showed me is that anywhere you are, you can make a contribution. I wanted first to get away from this small island, but I realised I come from a great place and I had to reflect why didn't I already do a list of things back home. Returning, I had a different discovery perspective of my own country. I began to pick classes that lead me into political sciences. Before, I felt that I would not be fit to go into this topic, that maybe it is not for me to try.

Rebecca, Malta
As a women engineer, 22 years oold and employed as a Project Engineer at the biggest such entreprise in my country, I am challenged with the stereotypical views my current surrounding brings. I was the only girl at my home faculty to study  electrical engineering. During my Erasmus I became more confident and I realised that this is the profession I do want to follow, that I want to work everyday on inventions that can make people's lives easier. I now know I want to build my own enterprise and I want to be an example for young woman engineers.

I came back to my home country as I want to make at least a small contribution to Georgia. Exchange offers you the chance to enter the competitive job market. Adding the mobility experience in your CV shows you are active, you bring communication skills, new perspectives, which are very appreciated on the job market in Georgia. The Erasmus Generation are the people that break the stereotypes, the dedicated people that want to have an impact despite of gender, ethnicity, or race.

Pikria, Georgia
Employers were looking for somebody that is resistant to change way before the pandemic.
The second day of the conference started with a panel discussion on the topic of development of youth through engagement in civil society, where Ioana Şurubaru, President of European Confederation of Youth Clubs, Monika Skadborg, Board member of the Youth Forum, Veronika Chmelárová, Secretary General at AEGEE, Marta Concepción Mederos from Scouts, and Tajana Mohnacki, Vice President of the Erasmus Student Network shared their insights and experience about the impact of community and civil society engagement on competence development.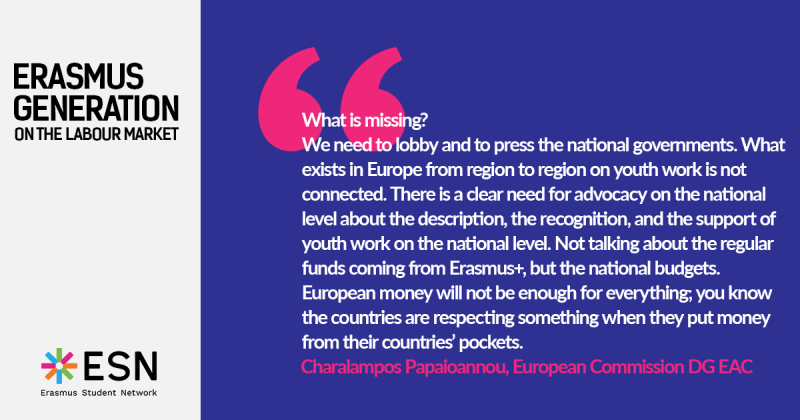 Charalampos Papaioannou from the Youth Uni of the DG EAC, Lukas Stede, German National Committee for International Youth Work, Ioana Şurubaru, and Tajana Mohnacki presented successful examples from the ground on the topic of recognition of youth work. The day ended with a presentation of Europass and how young people can use it to their advantage by Hrvoje Grganovic, Project and Communication Support Officer (Everis) at DG EMPL.