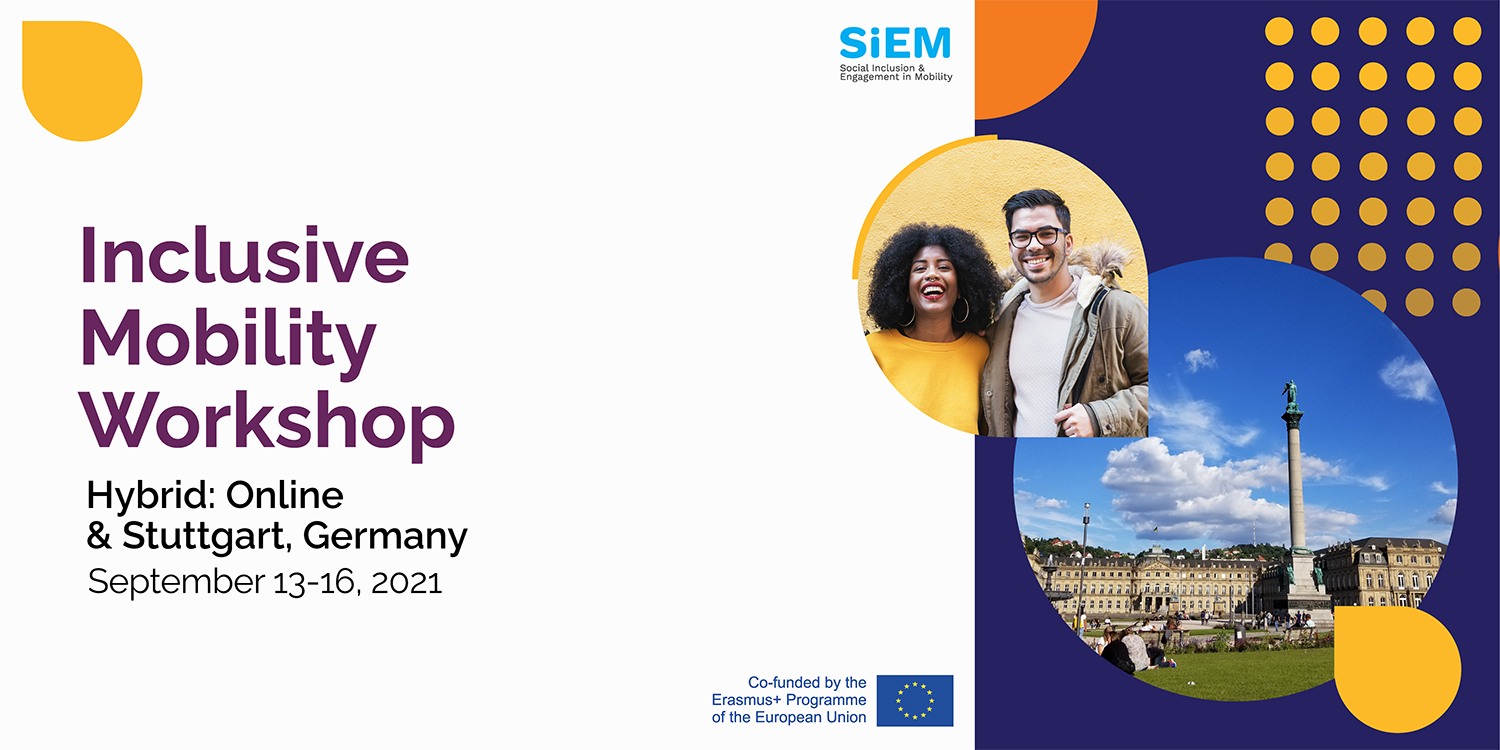 Wednesday, 30 June, 2021 - 16:29
Join our Inclusive Mobility Workshop: A Hybrid Training event (Online and in Stuttgart, Germany) in September 2021!
The Social Inclusion and Engagement in Mobility (SIEM) project focuses on making mobility programmes more available for young people with fewer opportunities. After elaborate research and gathering input from students, we aim to bring together young people from different backgrounds to discuss:
What were the major barriers young people with fewer opportunities from specific groups have to overcome to take part in mobility?

How can we bring the topic of an international mobility opportunity closer to their communities? 
During the event, we will think about the benefits that attract students to take part in an international experience and translate this into action items and activities that can be organised to engage with their peers, youth with fewer opportunities, on the topic of international student mobility.
Register by clicking the button below!

About the training
1. First online meeting beginning of September 2021 for introduction (2 hours, 6 or 7 September).
2. Hybrid meeting with participants on-site in Stuttgart and/or half online from the 13th to 16th of September 2021:
Day 0: 13th of September: arrival by 16h00

Day 1: 14th of September: full-day sessions

Day 2: 15th of September: full-day sessions

Day 3: 16th of September: departure after lunch
3. Second online meeting during 27 or 28 September 2021, for conclusions and next steps (2 hours).
Where: 
Stuttgart, Germany
Costs? 
As this targets participants with fewer opportunities, participation is free and will cover accommodation, meals, and local transportation during the event. Travel is reimbursed up to 250 EUR per participant, including all modes of transport from your door to venue and back.*
For who?
We are predominantly looking for people with a profile that connects to a group of students that are underrepresented in mobility, we, therefore, give priority to participants that identify as: 
A young person from a lower-than-average income background;

A young person from an ethnic minority background;

A young person that grew up in a more rural environment;

A first-generation student in higher education;

A young person from the lgbtq+ community.
Do you believe that you do not fit in either of these groups of students with fewer opportunities, but are you highly interested in the topic - you can of course still apply.
You will be asked which SIEM partner you are connected to (ESN International, UUKi, EUF, YES-Forum, University of Latvia, Masaryk University, ESN Spain, or ESN France). A minimum of 3 participants from each partner will be selected. 
Applications are open until the end of August.
The selection will be done on a rolling basis.