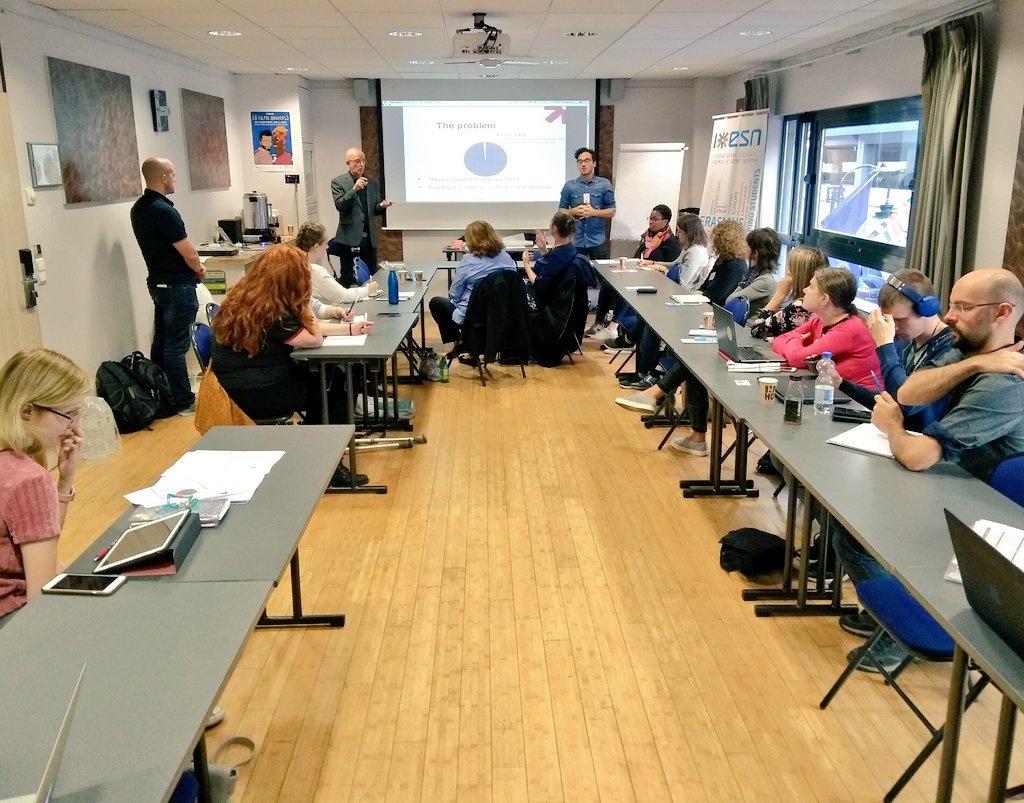 The Inclusive Mobility Alliance project has started!
Today we are kicking of the #Inclusive #Mobility Aliance with a 2-day training! Extremely excited to have so many experts in the room and discuss how we can truly make #ErasmusPlus more inclusive! #THISisESN #Inclusion #InclusiveMobility pic.twitter.com/sREUgxfSzE

— ESN International (@ESN_Int) September 27, 2018
On the 27th and 28th of September 2018, more than 20 organisations with expertise in the fields of Youth mobility, Higher Education mobility and Disability have gathered in Brussels to start discussing and defining what it means to organise an Inclusive Mobility (aka a mobility that is fully inclusive and allows everybody to take part in it, regardless of their socio-economic background).
Since 2007, the number of students with disabilities taking part in Erasmus+ has been almost stagnating while the number of young people experiencing Erasmus+ exchanges is increasing rapidly. The question of the inclusiveness of one of the flagship EU programmes has been raised much time over the past few years. Despite many efforts made, Erasmus+ is still considered by many as a rather elitist programme.
Only 0.14% of Eramus+ mobilities are by persons with special needs
⁉️Do you want to change the figures?#MobiAbility project is working on it
Encourage your #University to participate in this survey on support measures for #disabilities
https://t.co/Ktrns3PXWs@el_pais pic.twitter.com/VBdogtRlUu

— MobiAbility Project (@MobiAbility_Pro) September 18, 2018
During a meeting organised at the European Parliament on the 5th of December 2017 and hosted by MEP Damiano Zoffoli (S&D), the stakeholders present agreed to create an alliance of organisations working on the topic of Inclusive Mobility.
During the first day, participants had the chance to get to know each other, discover the work of the other organisations as well as some of the good practices already existing on the topic, such as:
They also defined the concept of Inclusive Mobility and brainstormed on the core elements that make a mobility abroad fully inclusive.
During the second day, the partners received Lloyd Huitson, Policy Officer at the European Commission DG EAC, who introduced the EU Commission proposal for the next Erasmus programme 2021-2027, that is currently being discussed at the European Parliament. After a round of questions and answers about its Social Dimension aspects, participants worked in groups to identify what works and what doesn't work currently in the Erasmus+ programme and came up with realistic solutions on how to improve the future Erasmus programme post-2020.
Second day of exchange at the launch of #inclusive mobility alliance to discuss barriers and good practices to enjoy mobility abroad in #higherEducation and #youthExchange for all.

#EramusPlus #disability #autism #autistic #EducationForAll #CRPD pic.twitter.com/FIjc9FJ91j

— Autism-Europe (@AutismEurope) September 28, 2018
By the end of the year, the project partners will produce a set of recommendations for policy-makers at all levels (European, National, Regional and Local) on how to make international mobility more inclusive. The Alliance will also be officially created and launched in December 2018 with a long-lasting aim of monitoring EU and national policies as well as advocating for more inclusive mobility programmes. Stay tuned!
The Inclusive Mobility Alliance project is co-funded by JINT, the Flemish National Agency for Youth. For more information, please contact [email protected].