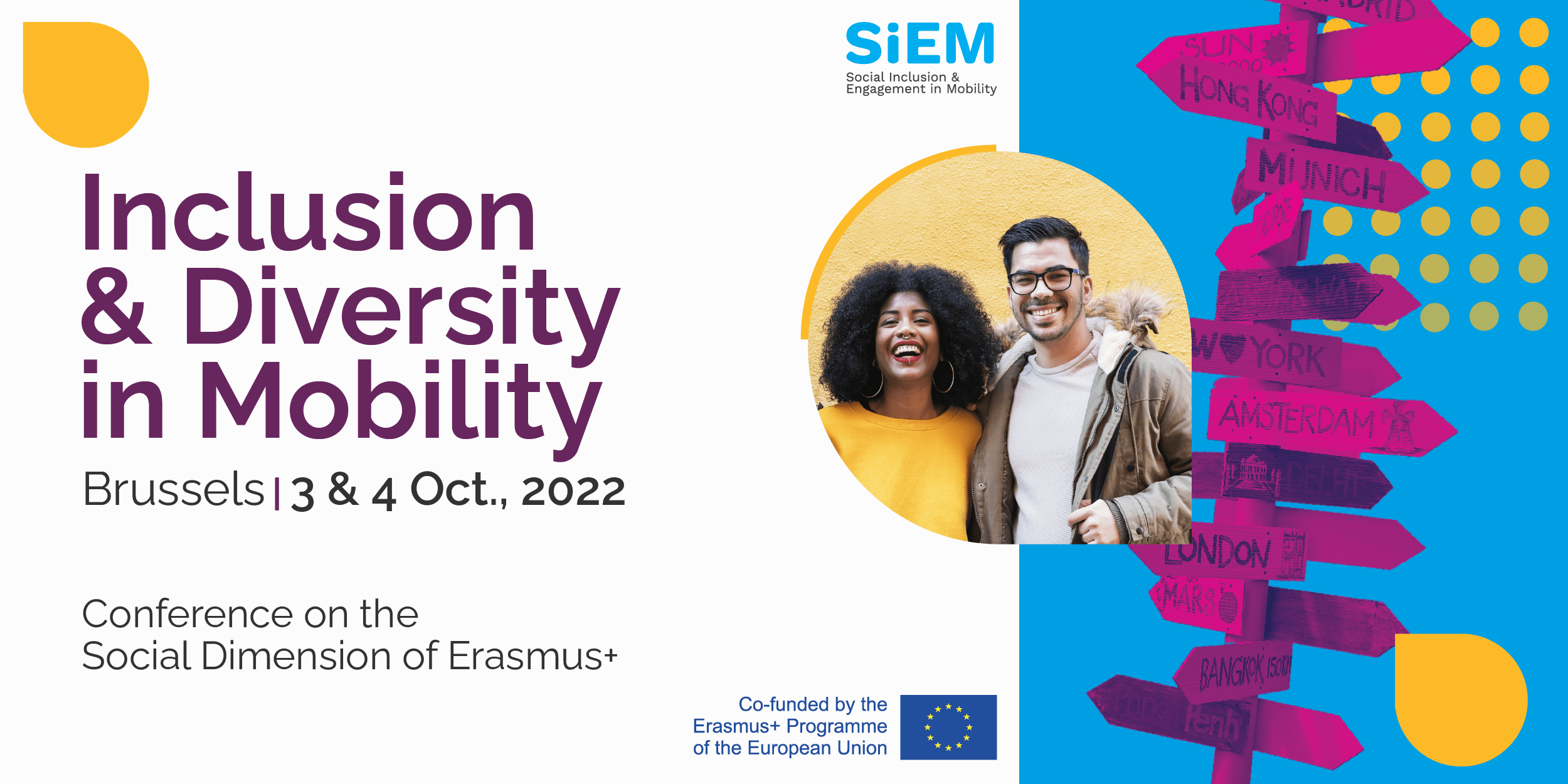 Friday, 5 August, 2022 - 15:44
Join us in the 'Inclusion & Engagement in Mobility' conference which will bring together people in the field of international student mobility to discuss how to overcome barriers to take part in mobility and how engagement and active participation can support social integration in the host society. 
The conference will take place in Brussels, Belgium on the 3rd and 4th of October 2022 and welcomes professionals interested in diversity and inclusion in student mobility and how student mobility programmes can have a lasting impact on students and their host communities.
Professionals working in the field of education and youth including international officers, 

Policymakers in education and youth, 

Erasmus+ National Agencies and Ministries working on education & youth, 

Students and youth representatives working in Education & Youth 
The conference is organised within the scope of the Social Inclusion and Engagement in Mobility (SIEM) project, an Erasmus+ KA3 project on Inclusion and Social Cohesion representing an important step towards making international mobility opportunities more inclusive; and enabling students from all backgrounds to study, work or volunteer abroad. 
Check out the agenda for the conference here.
Participation is free, but registration below is mandatory.
Registration will be open till the 15th of September 2022. 
Spots are limited, confirmation of participation will be provided on a rolling basis from the 1st of September 2022.
---
Sharing best practices
We welcome the experiences of other partners and participants: 
Do you have a best practice to share? Feel free to propose a topic to the agenda: 
Poster Sessions: A poster session allows the presenters to present their ideas, innovations, activities, events, initiatives, projects and best practices in a visual format and discuss it with the participants. The poster session will last 40 minutes. 

Ignite sessions: A fast-paced and dynamic session intended to provoke awareness and stimulate discussion. Speakers have 10 minutes to talk about a topic accompanied by 10 slides and 3 min for Q&A. 
Submit your best practice sessions proposal by clicking here