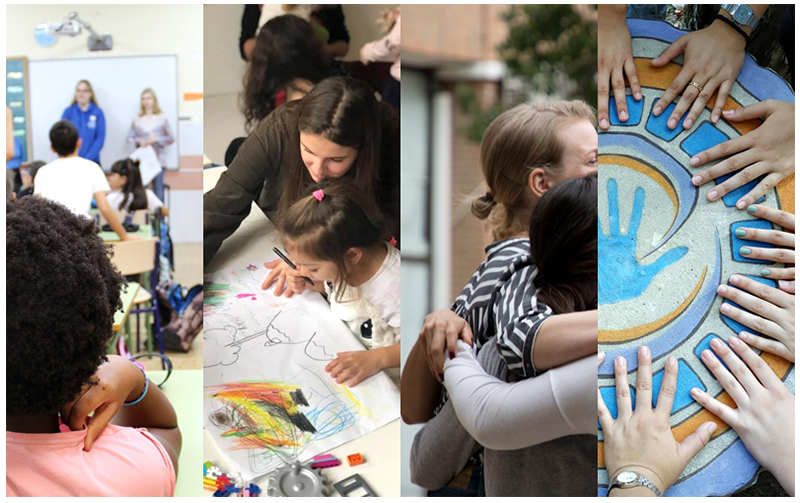 Wednesday, 30 January, 2019 - 10:44
In the Fall semester, from September to January, the Erasmus Student Network organised 808 events where international exchange students had a chance to contribute to their host communities in ways such as food drives and donations, fundraisers, cleaning actions,  kindergarten and school visits, educational workshops, conferences, and many more events that promote active citizenship and accessibility.
The high point of activity took place between the 19th of November and the 3rd of December, where everyone joined forces to organise 557 activities during the Social Inclusion Days, an initiative organised twice per year to stress the importance of learning experience of the students during their volunteering activity and internationalisation at home for local students.
More than 12.145 International students joined as volunteers and engaged with more than 26.000 members of their local communities. All of this was coordinated by a team of 1.447 coordinators of the Erasmus Student Network. This highlights the importance of the role of the ESN volunteer as a coordinator for such initiatives. The ESN volunteer is a key reach out to the International students and local communities to instigate connections.  Each ESN volunteer thus has a very big multiplier effect. 
For the Erasmus Generation, there are no limits. Through volunteering abroad, we walk towards a more united future!

Learn more about the initiative https://t.co/EvKO3XMNiw pic.twitter.com/Sek2fyEqfQ

— ESN International (@ESN_Int) 5 December 2018
International events
With "SocialErasmus+: Erasmus in Schools training", 44 ESN volunteers were educated on how to improve and upscale the impact of volunteering activities of Erasmus students during their exchange.
On the 14th of September, the Erasmus Student Network has launched a petition to European Commission and the European Parliament to create an Erasmus programme which encourages social integration & intercultural awareness through volunteering and engaging with local communities during an international exchange. The petition that currently has over 2,500 signatures is accompanied by the SocialErasmus Charter which examines the key elements that highlight the social dimension to an exchange programme and should form the backbone of an Erasmus experience.
ESN International has organised the second meeting of the Inclusive Mobility Alliance, gathering 20+ organisations from the Disability, Higher Education mobility, and Youth mobility fields. 
@ESN_Int is committed to making mobility more inclusive and the #InclusiveMobility Alliance is a great step forward! https://t.co/YeAIcFe5Is

— ESN International (@ESN_Int) 28 November 2018
"Social Inclusion Leaders' Meeting" gathered over 60 National and Local project coordinators of Erasmus Student Network. During five days (17th to 21th of October) the participants improved their skills, understanding of international projects and ESNs activity in the social inclusion cause.
National involvement
On the 10th Anniversary of the SocialErasmus project, local associations of ESN Poland from invited international students to cooperate and organize 100 volunteering activities for Polish society.  Since the 11th of November, over 100 events have been organized across the country, involving over 500 international volunteers.
ESN Arel, ESN Nisantasi, ESN Yildiz, ESN Marmara, and ESN ITU organised "Tandem+", an event that combines gathering of different nations and a certain topic. Around 60 participants talked about topics like cultural difference, causes of ESN and our programmes that are in certain contexts aimed to solve specific problems in societies.
ESN Rijeka organised a humanitarian action "Students for children of the City That Flows", an activity aimed to gather as much as possible stuff for unprivileged children in the city. 30 volunteers and around 120 citizens and international students achieved to gather things for 78 children. The event was largely covered by media all over Croatia and had a very high engagement on Facebook with over 29.4K people reached.
ESN Thessaloniki (ESN AUTh, ESN UoM, ESN ATEITH) organised an Erasmus in Schools activity in cooperation with Faros tou Kosmou - an organisation that takes care of Roma children by providing them with accommodation, education, and spare-time activities that engage both creativity and learning, such as a robotics team and many more.
ESN Novi Sad joined forces with ELSA Novi Sad to put the inclusion in Social Inclusion Days by playing a football match with Radni Centar "ŠOSO", a school for people with developmental problems.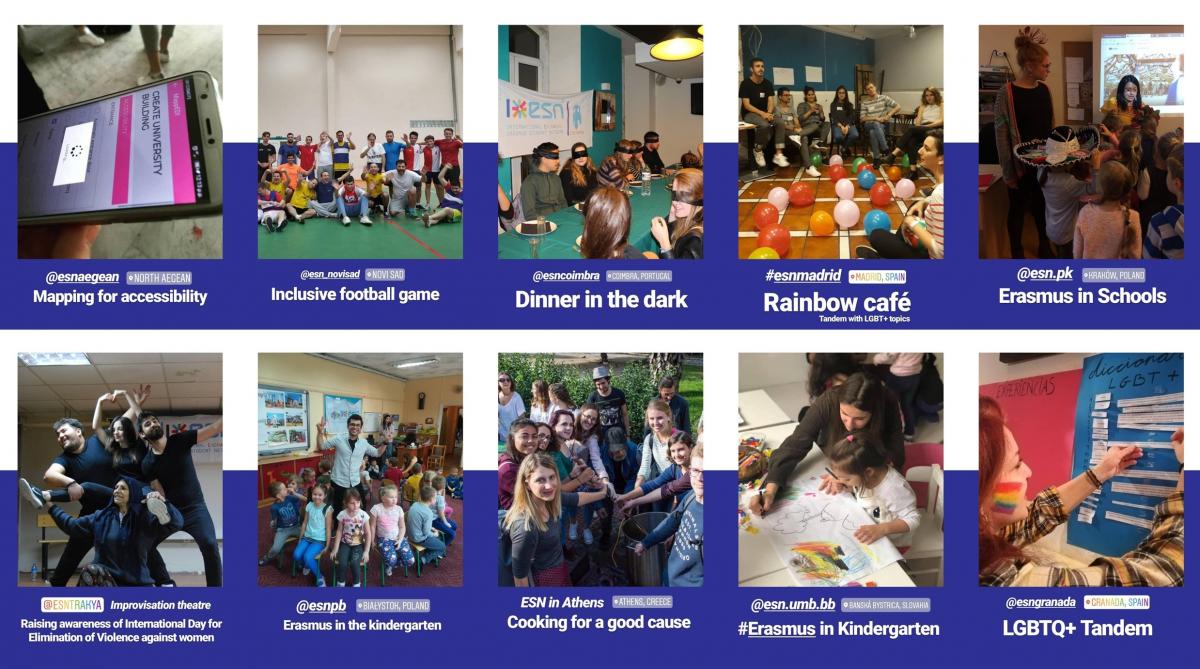 "The meaning of Erasmus is changing as fast as we live it! More and more International students in Portugal are looking for a fuller experience by committing to long-term volunteering in local associations. They are creating a direct impact in the local community and by doing that achieving a greater meaning of their mobility experience." - Hugo Silveira Gouveia, National Projects coordinator of the Erasmus Student Network Portugal.
For more information about the ESNs involvement please check the Impact and coverage report of Social Inclusion in Erasmus Student Network.