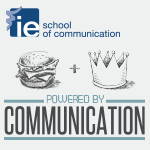 Tuesday, 30 June, 2015 - 13:02
Enhance and develop your creative, conceptual and managerial skills to carry out a strong communication strategy which can truly make an impact in the current market.
Our Master in Corporate Communication and our Master in Visual and Digital Media train professionals to have the ability to solve complex situations by boosting their critical thinking, giving them a deep understanding of today's complex and digital world.
What will you learn?
Latest trends in Communication: learn from top international figures in the communication field about the latest developments in the market.
Combine creativity and management to create a solid brand that can stand out in an increasingly digital and communication-based world.
IE's practical and innovative approach will help you to think and act to solve real-life cases. Embrace an environment which encourages teamwork, citizenship and entrepreneurship.
Conceptualization and management of diverse teams and projects. Our students and faculty come from all over the world which make it a modern and vibrant experience.
To learn more about our programs click here.