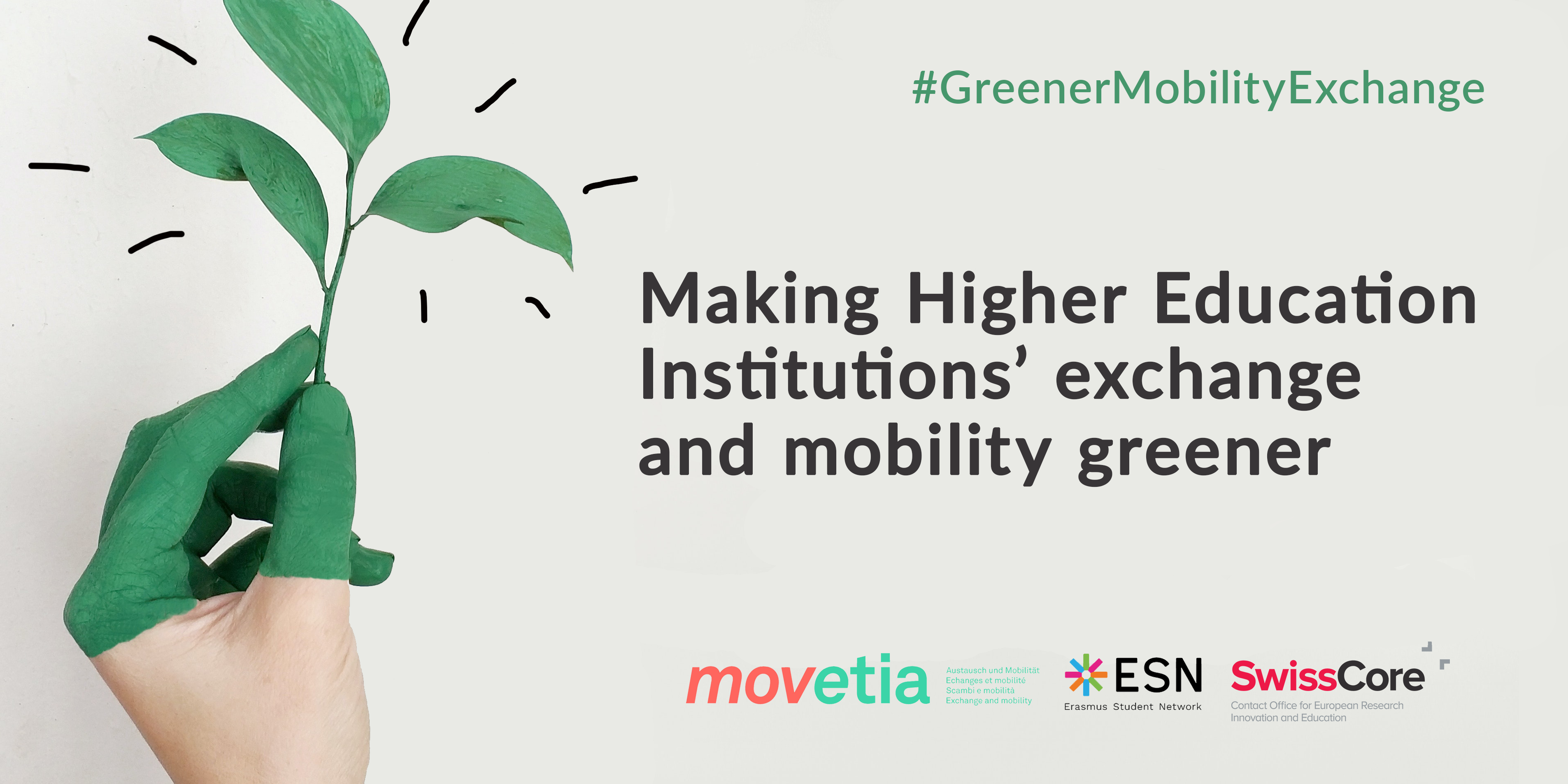 Tuesday, 5 May, 2020 - 14:03
Environmental sustainability has become one of the main priorities of countries and institutions in the last couple of years. At the same time, greenhouse gas (GHG) emissions from aviation keep increasing as flying becomes more affordable.  
Higher education is no exception here, with student and staff mobility growing year by year, and showing no sign of stopping. Higher education institutions (HEIs), on one hand, want to increase their international mobility and, on the other, want to reduce their ecological impact. Although many have already taken actions to tackle this issue, there is still a lot of uncertainty regarding which measures to take in order to efficiently deal with this issue.
Originally planned as an event in Brussels, the Making Higher Education Institutions' Exchange and Mobility Greener webinar took place on April 28th and gathered about 150 participants interested in the topic of greener mobility. It was organised by the Swiss National Agency Movetia, SwissCore and the Erasmus Student Network, in a joint effort to discuss not just ongoing initiatives by various institutions and organisations, but also to reflect on what can be done on national and European level to better reconcile international exchange and climate action. 
Greener Mobility best practices - let's get inspired!
Héloïse Perrin, Project Coordinator Higher Education, Movetia, Switzerland
During the webinar, Movetia presented its practical guide to greener mobility and showcased some of the best practices from around Europe, such as Uppsala University's pilot project for student mobility, in which they provided additional funding to 100 students who would use trains instead of planes to reach their exchange destinations.
Stay grounded, keep connected - ETH Zurich's air travel project 
Susann Görlinger, Co-Lead Mobility Platform Air Travel, ETH Zürich, Switzerland
Dr Susann Görlinger, an ETH Zurich representative, presented their air travel project "Stay grounded, keep connected". Based on a student initiative originally, ETH Zurich has developed a monitoring system and for the past four years has been collecting travel data from its researchers, staff, and students. Dr Görlinger highlighted that top-down support is essential, but that results cannot be achieved without the bottom-up implementation and involvement of the different departments with their specific situations and individuals and their travel decisions, adding that it is important to switch the narrative from talking about reduction of flights to finding alternatives to flying. 
We know it's a wicked problem, there are no simple solutions, but different and creative approaches. It is trial and error, but we have to start to do something. - Dr. Susann Görlinger
Let science speak: What do we know? What don't we know?
Robin Shields, Professor of Education, University of Bristol, UK
Robin Shields, professor of education at the University of Bristol, whose research focuses on the globalisation of education, talked about the impact of student mobility on GHG emissions, and how the carbon emissions from mobility are growing more quickly than the global total. But he also argued whether the benefits of international mobility outweigh the environmental costs, since mobility GHG emissions are still a small part of the global picture (less than 1/10 of 1%). However, that does not mean the environmental costs are not negligible. 
The goal is to continue the international mission of universities but to also start looking at the costs in more intelligent ways that allows us to continue to develop internationally but also to do it in a better, more sustainable way. - Prof. Robin Shields
Towards greener Marie Skłodowska-Curie Actions (MSCA)
Bodo Richter, Deputy Head of the Marie Skłodowska-Curie Actions (MSCA) Unit, European Commission
To give a perspective on how European programmes tend to look at greener mobility, Bodo Richter, Deputy Head at the Marie Skłodowska-Curie Actions (MSCA) Unit of the European Commission' agreed that reducing the carbon footprint of the MSCA projects is needed, through promoting and implementing sustainable behaviours, but also implementing policies which reflect that. 
José Manuel Fernández Arroyo, Head of the Erasmus+ implementation Unit of the European Commission, presented several ideas on how to make the new Erasmus programme (2021-2027) a greener one. As Erasmus+ programme is one of the most powerful education tools at the European level, the goal is to use it to raise more environmental and climate change awareness in participants. 
Physical mobility goes beyond what formal education can offer, and it will remain the core of the programme (...), but that doesn't mean we cannot do a lot of things to make our mobilities greener and more sustainable. - José Manuel Fernández Arroyo
One way to ensure more sustainable mobility would be to encourage participants to opt for low emission means of transport, such as trains. Acknowledging that this is not always an option for everyone, as trains can often be more expensive means of travel, Fernández Arroyo said that one of the possibilities being discussed is raising grants for those who chose to use more sustainable means of transport.
Using more sustainable means of transport should never be a barrier for participating in the programme.- José Manuel Fernández Arroyo
University networks as policy labs
David Bohmert, Secretary General, Conference of European Schools for Advanced Engineering Education and Research (CESAER)
When it comes to projects under the Erasmus programme, the organisations implementing them can be encouraged through guidelines and best practices to be more sustainable in their day-to-day work, making both their organisations and projects greener. Finally, he emphasised the importance of leading by example, applying the environment-friendly approach in the daily work of National Agencies, National Authorities, the European Commission, and organisations. 
Reflecting on the current COVID-19 outbreak, the speakers agreed it showed us that many of the activities of HEIs are currently being implemented digitally, which would help decrease the environmental impact. However, when it comes to student mobility, it is difficult to replace physical mobility with digital, since the majority of the benefits of it - such as improved communication skills, language learning, intercultural competences - come from face to face interaction.