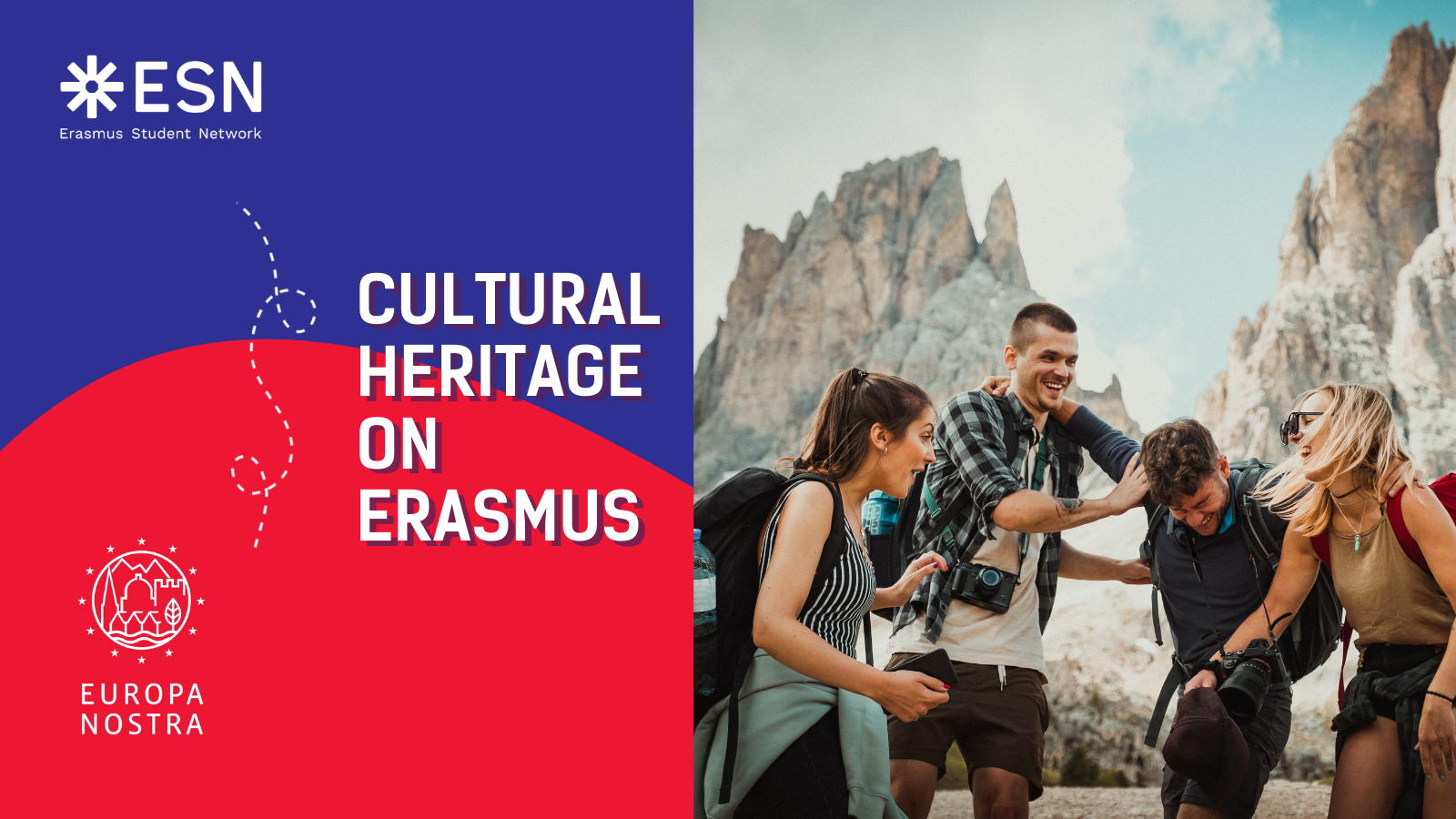 Monday, 5 July, 2021 - 10:47
On 28 June, Europa Nostra and the Erasmus Student Network (ESN) came together in an online event to formalise their partnership with the signing of a Memorandum of Understanding and to launch their pilot project "Cultural Heritage on Erasmus", which received the endorsement of Themis Christophidou, Director-General for Education, Youth, Sport and Culture of the European Commission, and Sabine Verheyen, MEP and Chair of the European Parliament's Committee on Culture and Education. Joined by over 50 students, young professionals, and experts from around Europe and beyond, the event not only celebrated this exciting new initiative but additionally gave attendees the opportunity to share why cultural heritage and Erasmus are important to them. 
It's official! We've signed a MoU with @ESN_Int & launched our #CulturalHeritageonErasmus pilot project! We're inspired by your enthusiasm & cannot wait to see it come to life in the next semesters. Together we CAN make #culturalheritage a greater part of the #Erasmus experience! pic.twitter.com/q6xHiRBNaD

— Europa Nostra (@europanostra) June 29, 2021
Manon Richard, EU Projects Officer at Europa Nostra, and Kostis Giannidis, President of ESN, began by presenting the project and the partnership. They emphasised that this joint project of Europa Nostra and ESN seeks to make cultural heritage a greater part of the Erasmus experience while promoting Erasmus mobility opportunities for heritage students. They explained that the project aims at connecting young representatives of both organisations, namely the European Heritage Youth Ambassadors - a joint initiative of the European Students' Association for Cultural Heritage (ESACH), Europa Nostra, and the European Heritage Tribune - and the ESN country representatives. Together, the partners shall organise cultural heritage activities for local and international students and exchange with peers beyond borders, ensuring the activities can be replicated in the longer term. Manon Richard and Kostis Giannidis each expressed the pride felt in this new development which brings together two key symbols of the European Union which speak directly to the hearts and minds of young Europeans: culture and education. 
In order to officialise the partnership, a Memorandum of Understanding was signed by the Secretary General of Europa Nostra, Sneška Quaedvlieg-Mihailovic, who signed virtually from the heritage site of Delos Island in Greece (watch the video), and the President of ESN, Kostis Giannidis. Together, they agreed to come together to promote the engagement of the younger generation in saving Europe's cultural heritage and ensuring a better future, and set the preliminary basis for a long and meaningful collaboration between the two organisations. 
We want to commit to our goals, therefore we decided to sign a #MemorandumOfUnderstanding "where we will together promote the #engagement of the younger generation for saving Europe's #CulturalHeritage and ensuring a better #future. pic.twitter.com/IHX9SURHQI

— ESN International (@ESN_Int) June 28, 2021
The project 'Cultural Heritage on Erasmus' received the endorsement of Themis Christophidou, Director-General for Education, Youth, Sport and Culture of the European Commission (watch the video), and Sabine Verheyen, MEP and Chair of the European Parliament's Committee on Culture and Education (watch the video). In their video messages broadcast during the event, Themis Christophidou and Sabine Verheyen expressed the significance of the partnership between ESN and Europa Nostra and conveyed their excitement for the potential outcomes of such a collaboration. They noted that culture and heritage experiences while studying abroad are of utmost importance for our sense of belonging in Europe, for our social inclusion, for our wellbeing, and for the understanding of our roots and history, a sentiment shared throughout the event. 
A highlight of the event was a panel discussion, moderated by the European Heritage Youth Ambassador (EHYA) from Cyprus, Antigoni Michael, and joined by four panelists: Jesus Martínes-Cardeñoso (ESN Spain), Maria Patrikeeva (ESN Russia), Héctor Manuel Aliaga de Miguel (EHYA Spain), and Giovanni Pescarmona (EHYA Italy). Each panelist discussed their own Erasmus experiences throughout Europe and shared the ways in which cultural heritage was an integral element in this. For most, these invaluable experiences have led them to their current studies and careers. Throughout their time abroad, cultural heritage was the glue to hold the experience together, and for that, they will forever be grateful.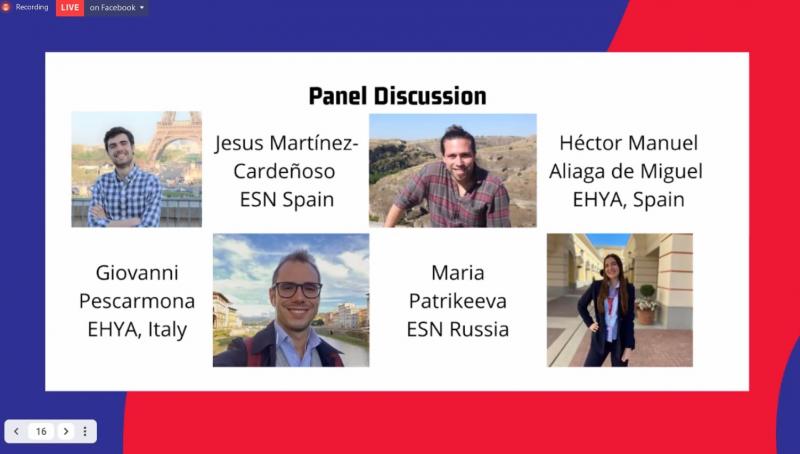 It was truly an inspiring event full of enthusiasm from those who deeply understand the value of cultural heritage while on Erasmus, along with those who are convinced of its potential. 
Throughout the event, a number of attendees described their Erasmus experience as "life-changing" and it is truly hoped that this partnership and pilot project will contribute towards this for future generations of students and young professionals.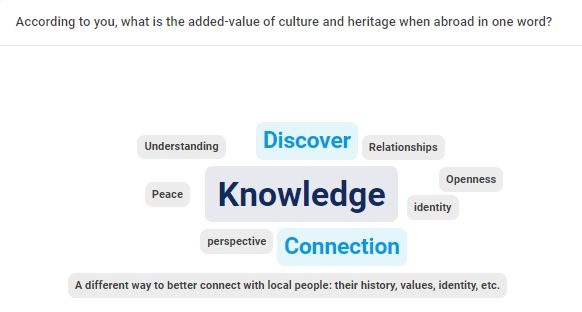 Missed the event? Watch the full recording here.