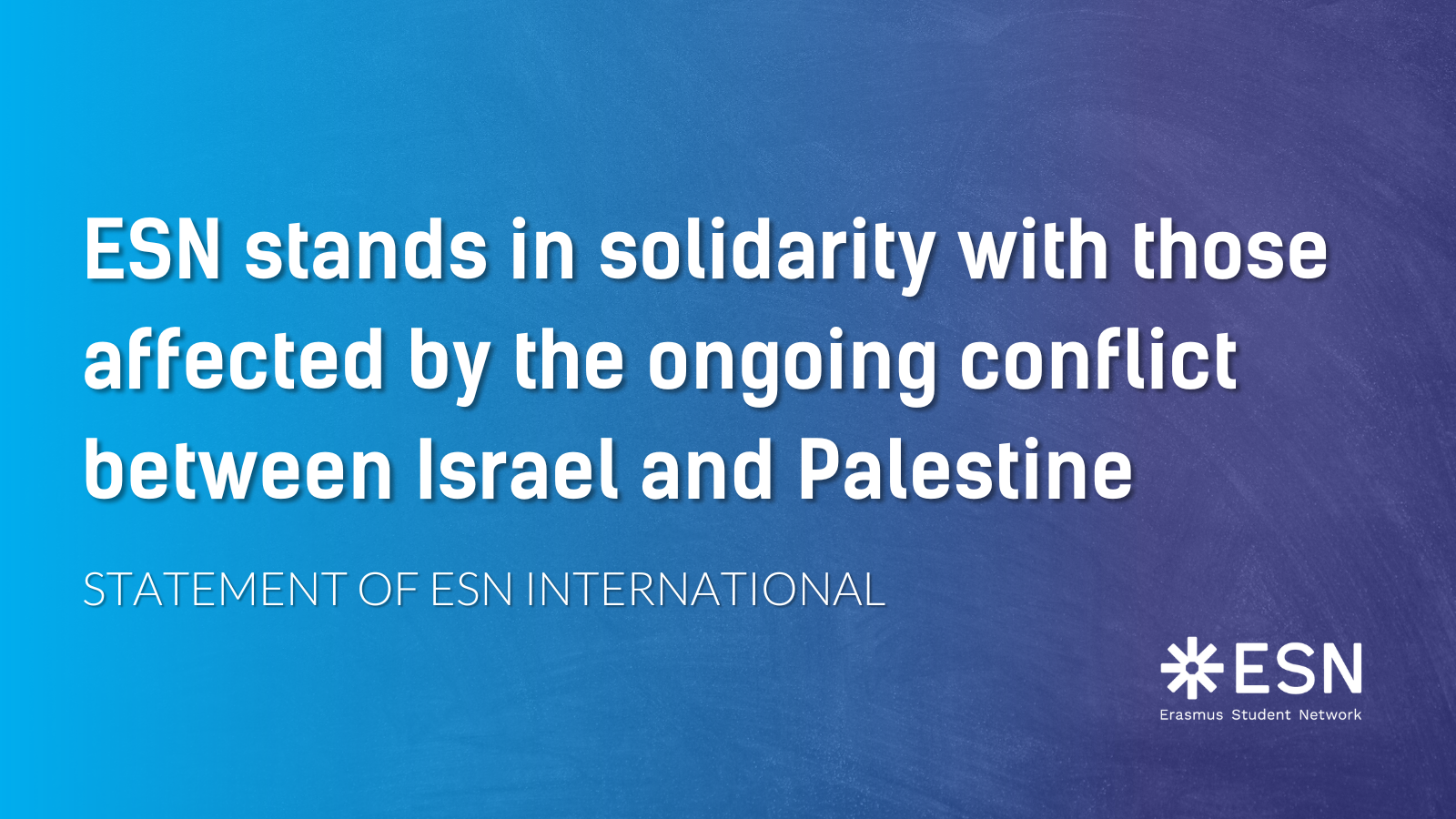 Monday, 6 November, 2023 - 15:57
It has been 31 days since the attack by Hamas escalated the ongoing conflict between Israel and Palestine. As the Erasmus Student Network, we condemn the actions of Hamas for the suffering imposed on the Israeli people. Simultaneously, we condemn the worsening humanitarian conditions in the Gaza Strip caused by the Israeli retaliation that is impacting civilians' access to clean water, electricity and healthcare, emphasising the importance of distinguishing between the Palestinian people and the Hamas terrorist group. Violence can never mean a response to more violence, as our world must live in peace. We ask for an immediate cease-fire and call upon stronger support for institutions around the world to reinforce and unify their position to suspend hostilities and continue support for the victims of the ongoing conflict.
We extend our most profound sympathies to all the victims, acknowledging the immense suffering it causes. As an international student organisation, our membership contains both Israeli and Palestinian students, among our volunteers and international students. We express our support to volunteers, young people and international students from both communities who are directly affected by these events and have shown firm commitment and resilience in their efforts to make a positive difference in the lives of those affected. We also offer them support in their efforts to advocate for world peace.
The Erasmus Student Network, as an organisation committed to fostering peace and intercultural dialogue through education and youth exchanges, calls for an equitable resolution to the conflict with the full and equal application of international law and the implementation of UN resolutions. We also urge the European Union to reinforce its solidarity with Israeli and Palestinian victims and continue providing humanitarian aid. 
As a youth organisation dedicated to international student mobility, we believe that education and exchanges that foster intercultural understanding can gradually pave the way for a better world. Our volunteers worldwide work tirelessly to promote understanding and solidarity among people from diverse countries and backgrounds. We are deeply concerned about the long-term impact of violence on young people and students and the future society we are building for them. We advocate for the creation of safe pathways for affected youth to continue their education abroad. These pathways are not just routed to learning; they are beacons of hope. By supporting these individuals, we aim to offer them a chance to rebuild their lives, foster personal growth, and contribute to a more peaceful and prosperous global future through the transformative power of education and cross-cultural exchange. 
Additionally, we are concerned about the safety of students, as recent events have raised concerns about anti-semitism, islamophobia and other forms of racism and discrimination across Europe. We urge Universities in Europe to address this issue within their student and staff communities, emphasising the importance of being truly united in diversity. Universities play a pivotal role in creating inclusive environments that celebrate multiculturalism and combat discrimination. By engaging in open dialogue and educational initiatives, universities can contribute to the harmonious coexistence of all individuals and promote a society where everyone is respected and valued, regardless of their background or beliefs. 
Throughout the ongoing developments in these events – and always – ESN will remain committed to the principles of peace, unity, and cross-cultural understanding. We emphasise our call for a just resolution of the Israel-Palestine conflict as we continue our efforts to contribute to a more peaceful world.