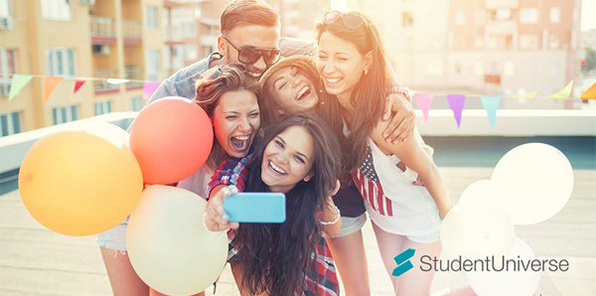 Thursday, 7 July, 2016 - 14:42
StudentUniverse to provide flight discounts to international students studying in Europe
The Erasmus Student Network and StudentUniverse, a leading resource for student travel discounts, have renewed their successful partnership to provide international students studying abroad in Europe with greater access to discounted travel opportunities. StudentUniverse's travel services team will also help ESN's member organisations with group bookings to travel to ESN events worldwide.
"Each year, we see the appetite for students going abroad and joining our organisation increasing by double digits. This year we experienced 10% growth in the number of students going abroad and joining the Erasmus Student Network; we also saw a 55% increase in ESN membership card registrations by students wanting to access the benefits our partners bring to our community," said Hugo A. Urción Serantes, Partnership Manager, Erasmus Student Network. 
"Travelling is one of the main resources that the Erasmus students have to increase their intercultural understanding and we are pleased to continue our successful partnership with StudentUniverse to improve their experiences."
Through the partnership, StudentUniverse will provide ESN's members an additional £15/20€ discount on top of its already-discounted student and youth fares on the first flight they book with StudentUniverse. These students also receive travel tips and information about flight sales and promotions that would be of interest to international students looking to travel during their exchange, or to and from their university at the beginning and end of the semester.
"Knowing the fundamental role travel plays in a student's Erasmus experience, we are proud to join other notable ESN partners to serve as a resource for international students and ESN's local member organisations worldwide," said Dan Baker, Head of Marketing and Business Development, StudentUniverse.
"Over the course of the last year, we saw thousands of students redeem our offer and we are hoping to reach even more ESN sections and members this year."
StudentUniverse is the world's leading travel booking site for students and youth. Through negotiations with global airline partners, they offer discounted rates for student and youth travellers to help students achieve their Erasmus study dreams. They are committed to making travel more affordable and a realistic opportunity for as many students as possible to explore their world. You can find out more information on StudentUniverse and search for discounted travel at: https://www.studentuniverse.co.uk
Erasmus Student Network is the largest student organisation in Europe with over 272,000 local and international student members. It is a youth-led, volunteer-based, non-profit organisation with a presence in 39 European countries. It provides international students with opportunities for cultural understanding and self-development. ESN works for the creation of a more mobile and flexible education environment by supporting and developing student exchanges on different levels and provides an intercultural experience also to those students who cannot access a period abroad ('internationalisation at home').