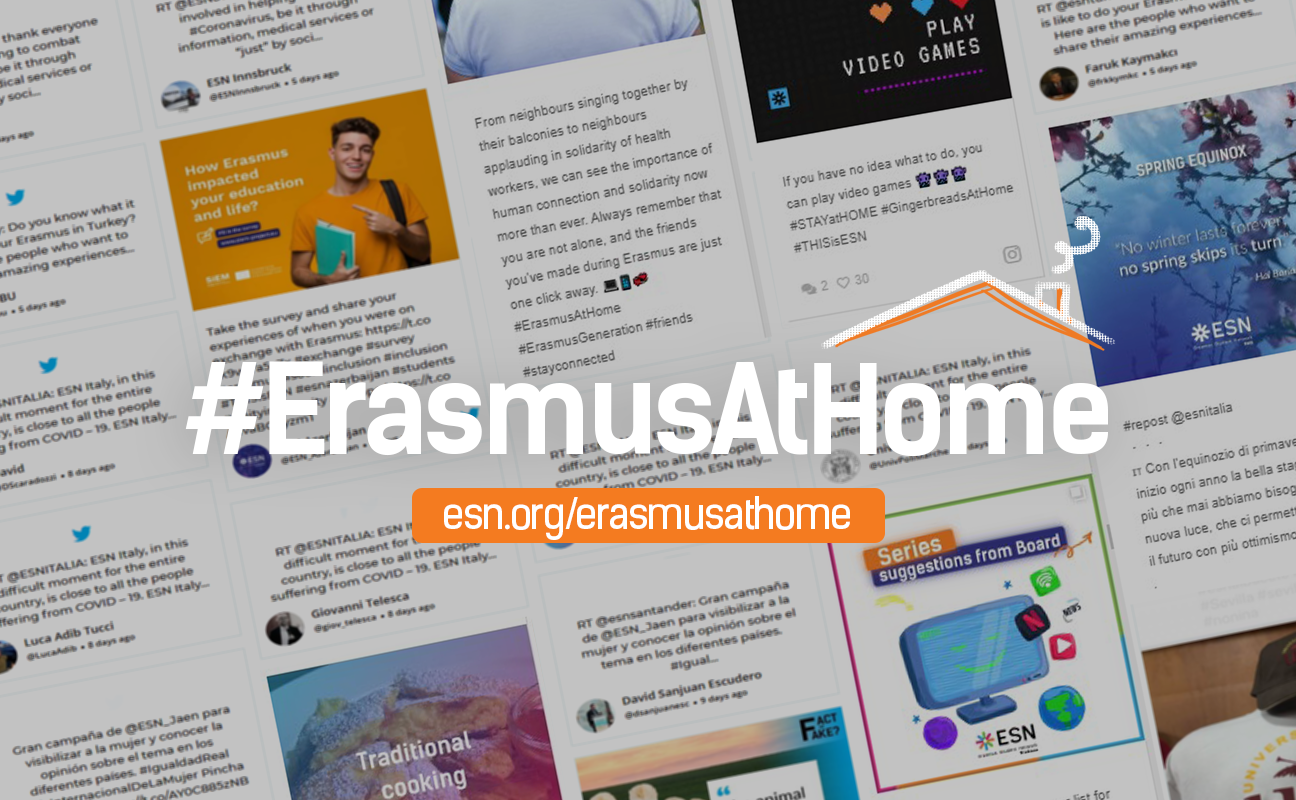 Monday, 23 March, 2020 - 19:01
The COVID-19 pandemic has severely affected the student life worldwide, and in a recent statement, the Erasmus Student Network has addressed the international students and all those whose mobility has been influenced by the COVID-19 outbreak. Meanwhile, the ESN volunteers in 42 countries are providing indispensable peer-to-peer support during these difficult times, whether by offering help and information directly to the students, translating and sharing new information from their governments and media, making sure that students are always aware of the latest developments, or through organising various online activities and initiatives.
On March 19th, a survey to assess the impact of the COVID-19 pandemic on student mobilities was launched, with the aim to better understand the difficulties and challenges students have been facing since the outbreak of the virus. The results will help ESN and its European and national stakeholders determine what actions need to be taken to better support the international students. The survey will stay open until March 30th, 2020.
The following day, a Q&A Webinar with the European Commission and various Erasmus+ National Agencies was held for representatives of ESN and the European Students' Union (ESU). Those who joined and sent in their questions were able to get information regarding the implications of the COVID-19 outbreak on the Erasmus+ studies. The webinar, which was recorded, will be available online in the coming days.
Since the start of the outbreak, local ESN organisations have taken preventive measures and postponed or cancelled their physical events. All activities have since then moved online, with many of them organising social media challenges, online movie nights, yoga and cooking classes, and more. To keep up with the changes, the activities.esn.org portal was updated to include online activities. The international students will be able to find all the activities from the following week in one place. This way, a student from one part of Europe will know about the creative activities organised by a local ESN organisation on the opposite side of the continent and have the opportunity to join them with one click.
In order to collect all the content posted on social media, the #ErasmusAtHome tagboard was created - a page where all the messages shared on Instagram and Twitter with the hashtag #ErasmusAtHome will be displayed. It is the virtual place for students to gather from all corners of the world and share support messages, information, short videos, and any other imaginative ideas to encourage each other and help pass the time.
To stay informed about all of ESN's ongoing initiatives related to the COVID-19 outbreak, follow our communication channels.