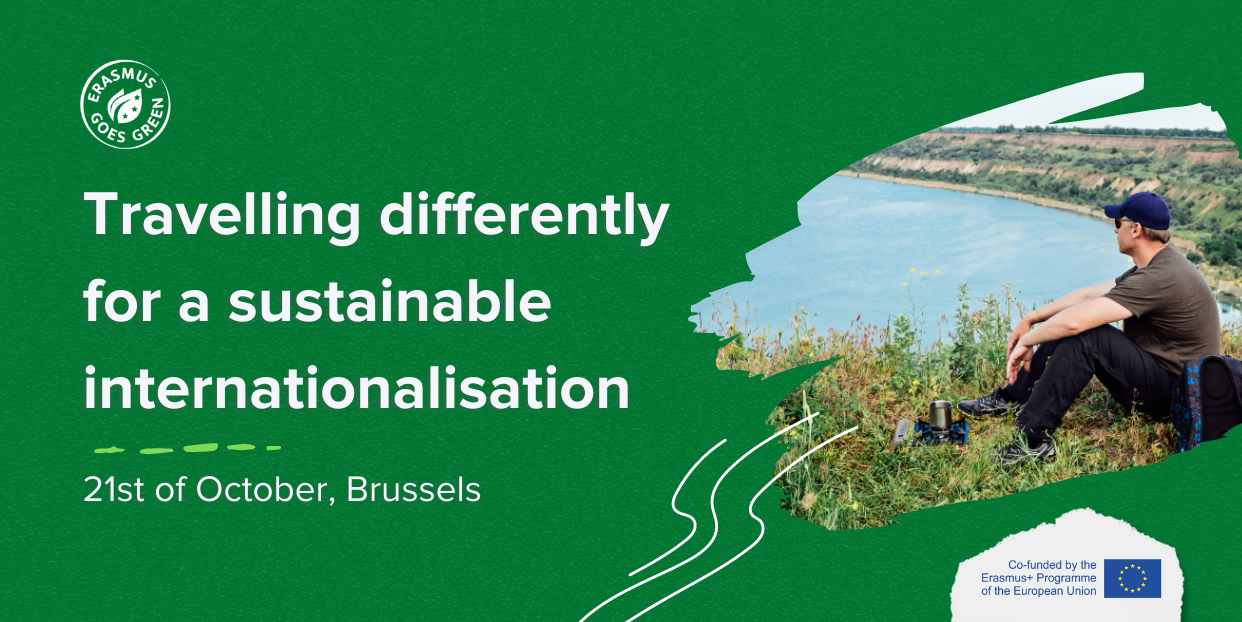 Thursday, 22 September, 2022 - 21:28
On the 21st of October the Erasmus Student Network (ESN) will host the in-person conference "Travelling differently for a sustainable internationalisation'', the last event of the Erasmus Goes Green project, to present the 
Higher Education students' handbook to travel green

Recommendations and Actions for Higher Education Institutions to build sustainable transnational partnerships

 
developed by ESN and European University Foundation (EUF). 
The event is aimed at Higher Education Institutions, students, European Institutions, and civil society organisations' representatives to explore why and how staff and students can minimise their impact on the planet while enjoying experiences abroad, and discuss the available and future strategies in the field. The final part of the conference will be dedicated to a panel discussion, whose inputs will lead to the finalisation of policy recommendations targeted at policy and decision-makers. 
The conference is organised within the scope of the Erasmus Goes Green project, which aims at finding solutions to reduce the transport-related carbon footprint of higher education students taking part in Erasmus mobility within Europe and that of staff participating in transnational project cooperation activities. As a result, the project consortium also assessed the transport-related carbon footprint of the Erasmus+ programme, created an ad-hoc webpage hosting a CO2 calculator, and studied the possible incentives and carbon offsetting options to reduce the carbon footprint of Erasmus mobilities. 
Check out the agenda for the conference. 
Participation is free but registration below is mandatory. 
Registration will be open until the 14th of October 2022. 
Spots are limited, confirmation of participation will be provided on a rolling basis from the 23rd of September 2022.
Upon request, students and NGO employees can request a reimbursement to cover their travel costs. The reimbursement is of max 20 euros for participants coming from Belgium and 80 euros for international participants. The reimbursement applies to participants who use a sustainable means of transport1. However, if the existing sustainable options exceed 6 hours, reimbursement can be considered upon review. The reimbursement applies to participants who do not have any working relationship with the institutions and organisations members of the Erasmus Goes Green consortium. The reimbursement is subjected to the mentioned eligibility criteria, verification of attendance and proof of payment. The reimbursement procedure will be communicated by the organisers during the conference. 

The Erasmus Goes Green consortium consists of Université de Versailles Saint-Quentin-en-Yvelines (UVSQ), Aristotle University of Thessaloniki (AUTh), Erasmus Student Network (ESN), European University Foundation (EUF), Erasmus University Rotterdam (EUR), Lapland University of Applied Sciences (Lapland UAS), University of Lodz (UL). 
For any other questions, please write to [email protected]
---
 1As per the Erasmus+ Guidelines, sustainable means of transport (green travel) is defined as the travel that uses low-emissions means of transport for the main part of the travel, such as bus, train or car-pooling.