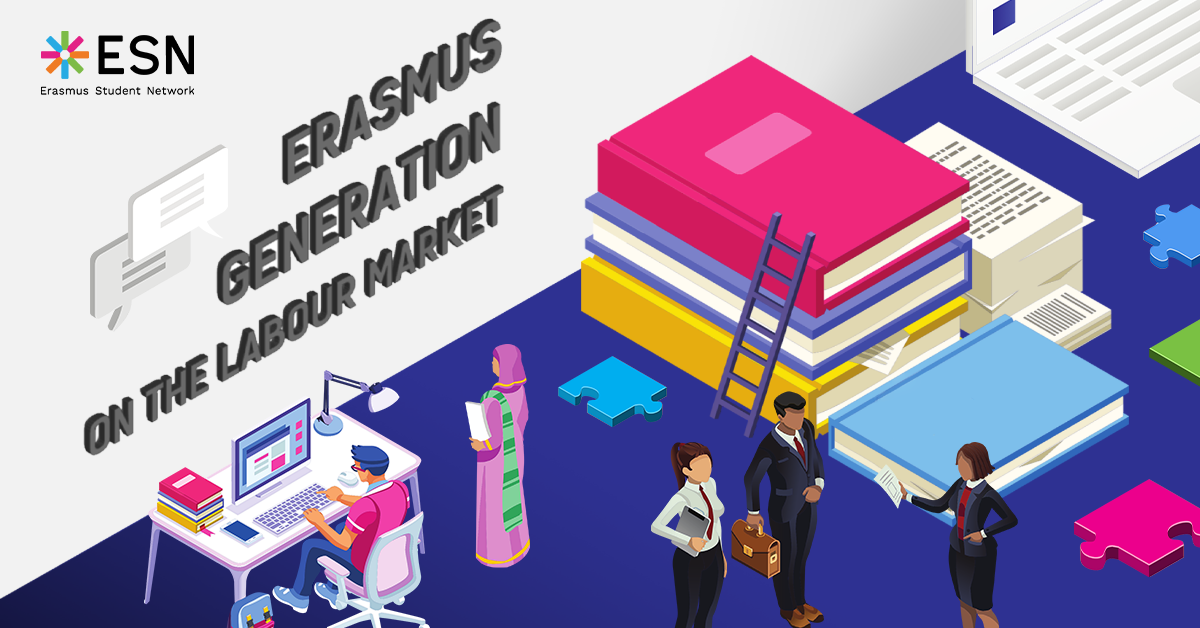 Monday, 3 May, 2021 - 16:12
Ever-changing work context, together with the growth and change of different industries, requires flexibility and adaptability when it comes to acquiring, developing and enhancing competencies on a continuous basis. According to Erasmus+ Impact Study, Erasmus+ students discover what they want to do in life while abroad. They are exposed to new teaching and learning methods and aim to progress to higher levels of education more than non-mobile students. Over 70% say they have a better understanding of what they want to do in their future career when they return from their mobility period abroad, enabling them to re-orient their studies to better match their career ambitions. Furthermore, nine in ten students report gains in adaptability, ability to collaborate with people from different cultures, communication skills and problem-solving skills. More than half improved their digital skills. Also, they report that they use their acquired skills and experiences in their current work.
The conference Erasmus Generation on the Labour Market, which will take place from 20 - 21 May online, will look into several topics connected to the employability of the Erasmus+ (and other exchange and mobility programmes) alumni.
The conference is open to the Higher Education Institutions and International Relations/Erasmus+ Office representatives, National Agencies/National Erasmus+ Office representatives, students and student representatives, youth workers and youth representatives, and volunteers who are interested in the topic of mobility and its benefits in an academic and career orientation context, as well as in the context of personal and professional development.
Agenda
Thursday, May 20th
11:00  Learning and Community Engagement during Mobility
Creating a framework for community engagement activities for exchange students
12:00  Competence Development and Mobility
Competence development of exchange students through community engagement
Lunch Break
16:00  Impact of Mobility Experiences on Erasmus+ Alumni
Panel discussion with the Erasmus+ alumni on how their mobility experience supported their career development
17:30  Youth Mobility Experience on your CV
A session for students on including their mobility experience in their CV
Friday, May 21st
14:30  Development of Youth through Engagement in Civil Society
Panel discussion with the representatives of youth organisations about the impact of community and civil society engagement on competence development
16:00  Recognition of Youth Work
Successful examples from the ground on topic of recognition of youth work
16:45  Europass
Introduction of the new Europass and how young people can use it to their advantage
17:30  Job Interview Simulation
Young people learning how to verbalise their experiences gained in community engagement activities

The participants of the conference will have an opportunity to attend different activities, such as presentations, panel discussions, interactive sessions and workshops. The focus of day one will be the connection between competence development and community engagement of exchange students, as well as the impact of mobility experiences on the career development of students. While the first two topics are tailored more for the Higher Education Institutions and International Relations/Erasmus+ Office representatives, National Agencies/National Erasmus+ Office representatives, the other two topics are tailored more for students and student representatives. The focus of the second day will be on community engagement as a tool for the development of youth and the role that civil society plays in this. The second day is tailored more for youth workers, volunteers, and representatives of civil society. 
All of the sessions are open to everyone and the participants can choose which sessions that they want to take part in. Participation throughout the entire conference is not obligatory.
The registrations are open until May 18th 2021 and you can secure your spot through Eventbrite. For the Job interview simulation workshop, you need to register separately as the number of spots is limited. If you want to practice how to verbalise the competencies you have developed and your experience in a job interview, please register through this link. You can also join the Facebook event, where the speakers will be introduced, together with all the relevant information.
You can also find more information about the conferences on the activities platform which means that the conference is also available on the Erasmus+ App. Would you like to share the impact of your Erasmus+ experience? You can share your personal story or add a tip for other students through the Erasmus+ App. If you haven't downloaded the Erasmus+ App already, it is available now in the Google Play Store and Apple's App Store.