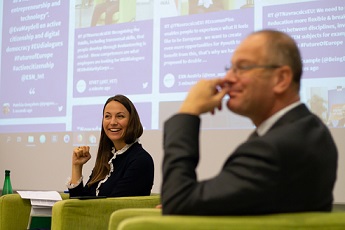 Friday, 2 November, 2018 - 14:08
On the 9th of October at the Vrije Universitat Brussel (VUB), the Erasmus Student Network organised a Citizens' Dialogue with Tibor Navracsics (European Commissioner for Education, Culture, Youth, and Sports), Eva Maydell (Member of the European Parliament), Sixtine Bouygues (Deputy Director-General for Communication of European Commission) & Karl Müller (Austrian Presidency of the Council of the European Union) to discuss active citizenship among youth. 
The Citizens' Dialogue has started! @ESN_Int, @TNavracsicsEU & @EvaMaydell will discuss #ActiveCitizenship. Watch us live on https://t.co/8Kr0GtsdPz and ask us question by using #EUdialogues! pic.twitter.com/kVob6zci9F

— ESN International (@ESN_Int) October 9, 2018
The Dialogue concluded a three-day training for the volunteers of Erasmus Student Network including national Presidents, Education Officers and members of the ESN International Committee for Education. It has been facilitated with the help of trainers from BETA Europe and representatives of the European Youth Forum, Lifelong Learning Platform, European Citizen Action Service, European Movement International Eurodesk, Directorate-General for Communication of the European Parliament and the European Commission, Directorate-General for Education, Youth, Sport and Culture of the the European Commission, the Youth Intergroup of the European Parliament and the European Economic and Social Committee.
Third day of #ErasmusUpgrade conference starts with @NlePolain giving insight on voting patterns among young people. The #ErasmusGeneration says #ThisTimeImVoting! 

https://t.co/65JB7EoS5F #ErasmusUpgrade pic.twitter.com/2r9hqkJ1oX

— ESN International (@ESN_Int) October 8, 2018
The European Parliament elections in 2014 suffered from a remarkably low turnout for young people all over Europe. However, the Erasmus Generation is a generation of active citizens. The Erasmus Voting Assessment (2014) showed that Erasmus students are three times more likely than their non-mobile peers to vote in the European Parliament elections 2014. Therefore they are a great source of inspiration and can become ambassadors of active participation in democratic processes, especially in the view of upcoming 2019 European Parliament elections. 
"#Volunteering shouldn't be something extraordinary, but a regular part of the society. It is extremely important and it should be nurtured from an early age" - @EvaMaydell #EUdialogues #ErasmusUpgrade

— ESN International (@ESN_Int) October 9, 2018
During the training and the Citizens' Dialogue recommendations on how to improve active citizenship among people have been developed. The event has been organised as part of the Erasmus In Action - a project coordinated by the Erasmus Student Network and co-funded by the European Commission. It aims at empowering young people to be more engaged in democratic processes in Europe. The project consortium includes the Erasmus Student Network, BETA Europe, Erasmus Student Network Belgium & Erasmus Student Network Italy.
@ESN_Int's Citizens' Dialogue came to a successful end! Thank you very much @TNavracsicsEU, @EvaMaydell, @sixtinebouygues, Karl Müller & all participants both offline and online! Let's make sure that #ErasmusGeneration is a generation of #ActiveCitizens! #ErasmusUpgrade pic.twitter.com/7evJ4Xt5l6

— ESN International (@ESN_Int) October 9, 2018
The full recording of the event is available here while the photographs can be seen here.