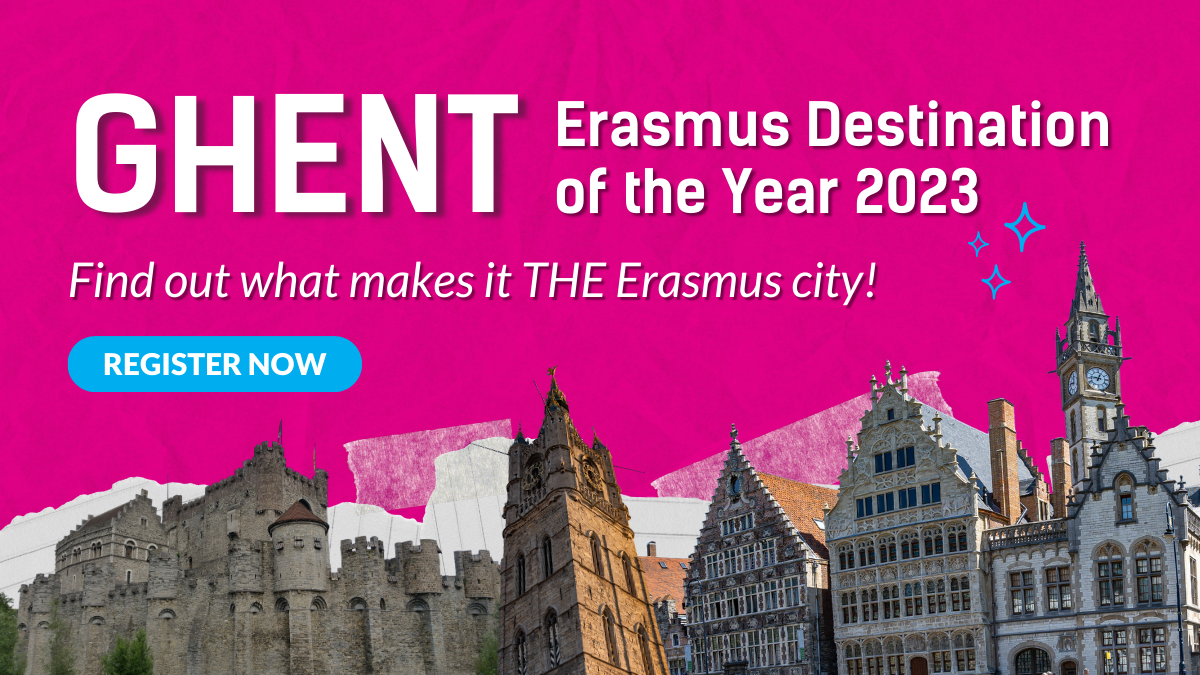 Wednesday, 1 November, 2023 - 18:35
Join us in celebrating Ghent - the Erasmus Destination of the Year 2023
Supporting the collaboration between student organisations and Higher Education Institutions in making internationalisation more inclusive and widening participation in learning mobility are core priorities for ESN. In order to maximise the impact of international student mobility on the local society, we are organising a conference that will bring together all the relevant stakeholders and students to showcase best practices that led Ghent towards the title of Erasmus Destination of the Year. The conference will take place at Ghent University, in the Campus Aula (Ceremoniezaal), on the 28th of November from 3:00 P.M. CET.
We will have speakers from UGent, the city of Ghent municipality, the European Commission, and other relevant stakeholders in the internationalisation field.  We will also have a sizable number of ESN representatives at the conference, including ESN International, ESN Belgium, and ESN Ghent, together with local and international students from Ghent.
The programme and logistical information are available in the live agenda. As you can see, we will be covering a wide range of topics related to the quality and impact of mobility experiences.
Erasmus Destination of the Year initiative, launched by ESN and the European Commission in 2022, spotlights great local practices in student mobility support and promotes inclusive mobility. The key aim of the initiative is to showcase the joint efforts of student organisations, Higher Education Institutions, and the city in supporting international student mobility.
Along this line, the conference will bring together people in the field of international mobility to discuss how to improve overall mobility experiences and how diversity within the student population and the local community can be leveraged to make the best out of the students' exchange programmes.
Join us on the 28th of November to celebrate student mobility and the Erasmus+ programme!