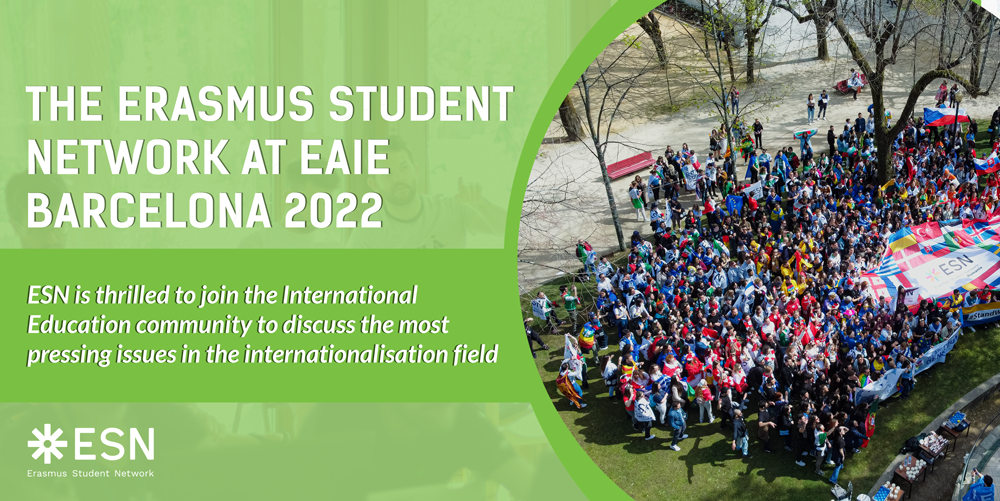 Thursday, 8 September, 2022 - 12:12
The Erasmus Student Network is thrilled to take part in the Annual Conference of the European Association of International Education, one of our long-standing partners with whom we have collaborated for years to improve international education and raise the voice of the Erasmus Generation.
The Erasmus Student Network is thrilled to join the International Education community to discuss the most pressing issues in the internationalisation field, at this crossroads moment in which the values that internationalisation represents are more important than ever. As the biggest student association working in the field of international student mobility and the largest Erasmus alumni network in the world, ESN will strive to provide the student and alumni perspective in the different discussions related to the future of international student mobility and international education at large.
A delegation of ESN volunteers from across our network will also be part of the conference assistant team, supporting participants to make the most out of their conference experience. On top of that, representatives from our member organisations ESN Spain, ESN Switzerland and ESN the Netherlands will also take part in the conference.
We are pleased to contribute to the content of the event with a number of sessions on topics such as new mobility formats, widening participation in student mobility, or making international student mobility more sustainable:
Campfire: Erasmus+ blended intensive programmes: adding new colours to internationalisation in a student-friendly manner - Session 05.12 - Thursday 15 Sept 09:30-10:30 Rojo 3, Level 0, Fira - Together with the European Commission.
Session 03.08: The full-colour spectrum: inclusion and diversity in student mobility - Together with the European Commission and the European University Foundation - Wednesday 14 Sept 13:30-14:30 - Rojo 1, Level 0, Fira
Session 03.05: Inclusion and Diversity presents: Inclusion AND excellence in academic solidarity: overcoming the false paradox - Wednesday 14 Sept 13:30-15:00 - Rojo 2, Level 0, Fira
Poster 117 - How to make internationalisation greener- Wednesday, 14 September 2022, 14:30 - 16:00 Upper Walkway - Level 1
Poster 107 Improving pre-departure support for international students - Wednesday 14 Sept - 14:30-16:00 - Upper walkway, Level 1, Fira
Contact us! We would love to meet you!
Contact us if you are interested in project collaborations, fostering student support and involvement at all levels, or increasing your connection with our national and local members.
And do not hesitate to connect with the members of our delegation on Linkedin, or to drop us an email at [email protected] if you would like to connect with us during the event:
You can also get in touch with our national presidents: