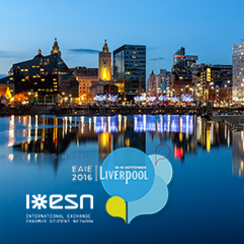 Friday, 14 October, 2016 - 16:44
In mid-September around 5000 higher education staff, researchers, students and service providers poured into Albert Dock in Liverpool, ready for a three day conference with the conference slogan "Imagine" as a theme. The conference hosts a packed agenda with back-to-back seminars, hour-long workshops, receptions and an all-day exhibition area, the EAIE manages to keep even the most prepared busy.

This year ESN had it's biggest representation and visibility in comparison to previous years. With a delegation of seven, ESN participated as speakers and moderators in over a dozen of sessions. As one of very few student organisations present, our main aim is to set the student-perspective on top of the ongoing discussions and ensure that the student voice is heard and reflected upon.

This year ESN highlighted three important themes at the EAIE; Digitalisation of higher education with the Online Learning Agreement Project and Erasmus Without Paper; Accessibility of international mobility through MappED! Focusing on empowering and facilitating the opportunity of mobility exchanges for students with disabilities; HousErasmus+ that investigates the accessibility of affordable housing for international students and trainees in Europe.

All together we managed to reach over 1000 people through our sessions, posters and stand at the EAIE. This results wouldn't have been possible without the collaboration with meaningful partners in ensuring that the student perspective got a platform at this years EAIE and in addressing the topic of the future of higher education in Europe.

Lastly we want to thank the EAIE, the European Commission, Times Higher Education, European University Foundation, Coimbra Group of Universities, Ghent University, University of Vigo, University of Warsaw, Karolinska Institutet, Politechnical University of Valencia, University of Cyprus, The Class of 2020, Uniplaces, U-Multirank for a great collaboration!