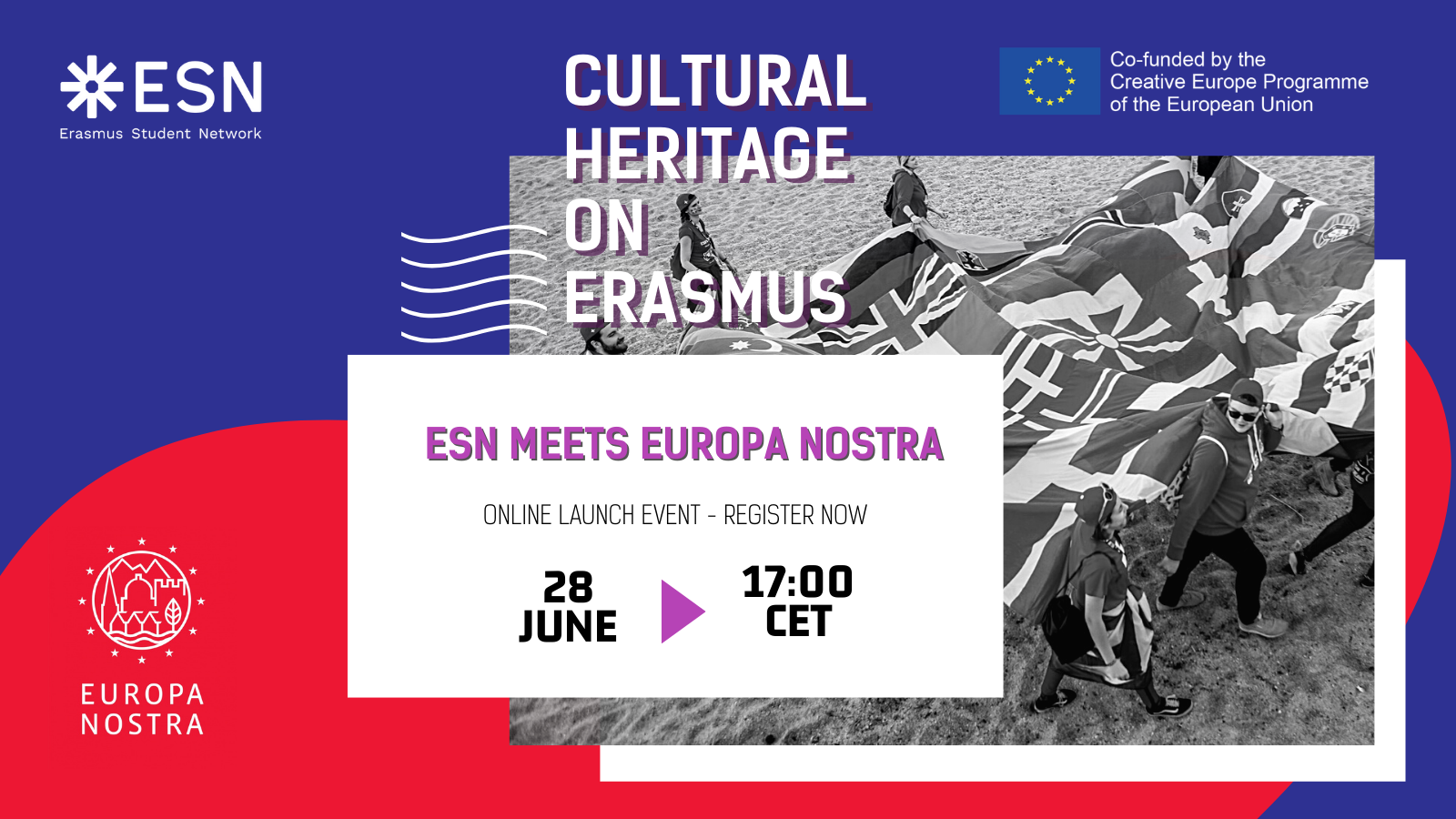 Monday, 14 June, 2021 - 14:30
On June 28th, 17:00 CET, Europa Nostra and the Erasmus Student Network will come together in an online event to launch their "Cultural Heritage on Erasmus" Pilot Project as well as publicise the organisations' cooperation in terms of communication, outreach, and awareness-raising. 
Over the past months, Europa Nostra and ESN have explored synergies between their youth-related activities. The Pilot Project seeks to make cultural heritage a greater part of the Erasmus experience, while promoting Erasmus mobility opportunities for heritage students. This will be achieved through connecting the aforementioned European Heritage Youth Ambassadors with their respective ESN National Organisations. The primary goal of such a project is to reach out and engage with past and current exchange students who have a genuine interest in cultural heritage, as well as attracting new ones. The pilot phase will help create a platform to organise cultural heritage activities at the local level and to allow exchanges beyond borders, ensuring the cooperation can be replicated beyond this initial phase. 
Europa Nostra is the European voice of civil society committed to safeguarding and promoting cultural and natural heritage. It represents a wide network of public and private bodies as well as individuals, including over 300 young members from 43 countries.
Launch event draft programme
June 28th, 17:00-18:30 CET
Welcome & Introduction by ESN and Europa Nostra 

Live signature of the Memorandum of Understanding 

Keynote speeches by representatives of the European Commission and the European Parliament

Panel discussion with the European Heritage Youth Ambassadors and ESN Representatives 

Q&A with the audience 

Final remarks & Conclusion 
Join us by clicking the button below.

We are looking forward to discussing together the opportunities for young people around Europe to culturally enrich their international experience!
For more information, join the Facebook event.