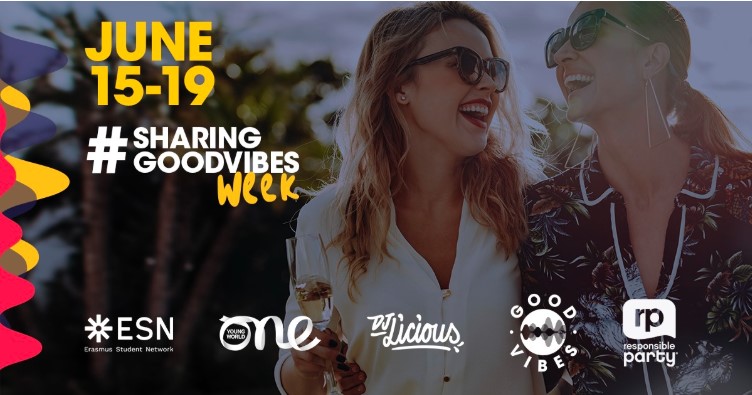 Friday, 12 June, 2020 - 12:47
Our partnership programme Responsible Party has gone digital! 
Between 15 and 19 June, join us online for an exclusive event unveiling a series of videos sharing good vibes, a live concert, as well as a new online training platform promoting responsible drinking.
ESN & Pernod Ricard celebrate the 11th anniversary of the Responsible Party programme!
Launched at the beginning of April on Facebook and Instagram, the #SharingGoodVibes campaign aims to provide young adults with positive messages and stories around solidarity and conviviality whilst raising awareness around a responsible lifestyle. 
Responsible Party, supported by ESN, made the decision to move to social media with the objective to interact and engage with young adults around many topics including responsible drinking. This enabled the programme to continue in its mission to raise awareness around responsible drinking, even during confinement. 
The #SharingGoodVibes campaign seeks to inspire young adults to share uplifting stories from around Europe and further afield, whilst reminding them to stay safe, convivial, connected and responsible. It can be challenging to have a balanced lifestyle and maintain good mental health during this time - the temptation to drink to excess can arise, so ESN & Responsible Party remain united in their mutual objective to protect and empower young adults and continue to join forces to help create positive change in society. 
This week of activations marks the 11th anniversary of the partnership between ESN & Responsible Party, pursuing the commitment to promote responsible alcohol consumption and fight binge drinking among students in Europe. The programme has now reached over 450 000 young adults across 33 countries, and this 11th anniversary celebration demonstrates that both partners are looking towards the future of the programme and their combined objective of expansion and increased engagement amongst young adults.
"We are very proud to see Responsible Party growing every year. When the programme was launched 11 years ago no one could expect that it would become such a success. Responsible Party addresses the needs of young people and helps them to become more independent and adopt a responsible and healthy lifestyle. Excessive alcohol consumption and binge drinking represent a great risk for the young generation. The success of the programme lies on its peer to peer approach and the impact that has on young people is overwhelming. The current situation we are living in is posing a threat to the health and wellbeing of young people. This is why we adapted our programme to online, by launching the #SharingGoodVibes campaign, in order to increase our support to young people. In times of confinement and social distancing, it is our societal responsibility to prioritise the health and well-being of young people and students." - Kostis Giannidis, President of the Erasmus Student Network
To go even further, Responsible Party will unveil during the week a series of video interviews, available on different channels. Several speakers such as Kostis Giannidis, President of ESN, Alexandre Ricard, CEO of Pernod Ricard, DJ Licious and other influencers and ambassadors for a responsible lifestyle will share their views and perspectives on responsible drinking and healthy lifestyle.
In addition, Responsible Party is proud to also announce the launch of its new digital training platform around responsible drinking. The online training will provide young adults with information on alcohol and binge drinking as well as tips on how to party responsibly. Young adults will be equipped with the necessary tools to make the right choices – to empower themselves, empower others and learn how to party better and safer. If you want to know more about alcohol and the effects of binge drinking or simply learn more about Responsible Party, don't hesitate to check it out next week!
You can follow the Responsible Party (Facebook, Instagram) and the ESN channels (Facebook, Instagram, Twitter, LinkedIn) for the online celebrations during the #SharingGoodVibes Week.
About Responsible Party
Born in 2009 from the insight that events are even better if enjoyed responsibly, Responsible Party is the first pan-European programme tackling binge drinking among young adults.
Created as a partnership between Erasmus Student Network and Pernod Ricard, Responsible Party is a unique programme which actively fights against the misuse of alcohol. 
The programme has two main goals: 
Raise awareness among young adults about the risk of overconsumption of alcohol;

Reduce alcohol-related harm during events. 
It is about promoting a balanced lifestyle and empowering young adults to decide for themselves. Responsible Party can be activated during any event and is a non-branded programme. It is a label that provides a safer and more responsible environment for young adults.
Working with a peer to peer approach, we are never killjoy but cool and friendly people acting to make good times memorable. Creating good times where different personalities meet and lasting international friendships get started - that's what we're about! We are here to make good times unforgettable.