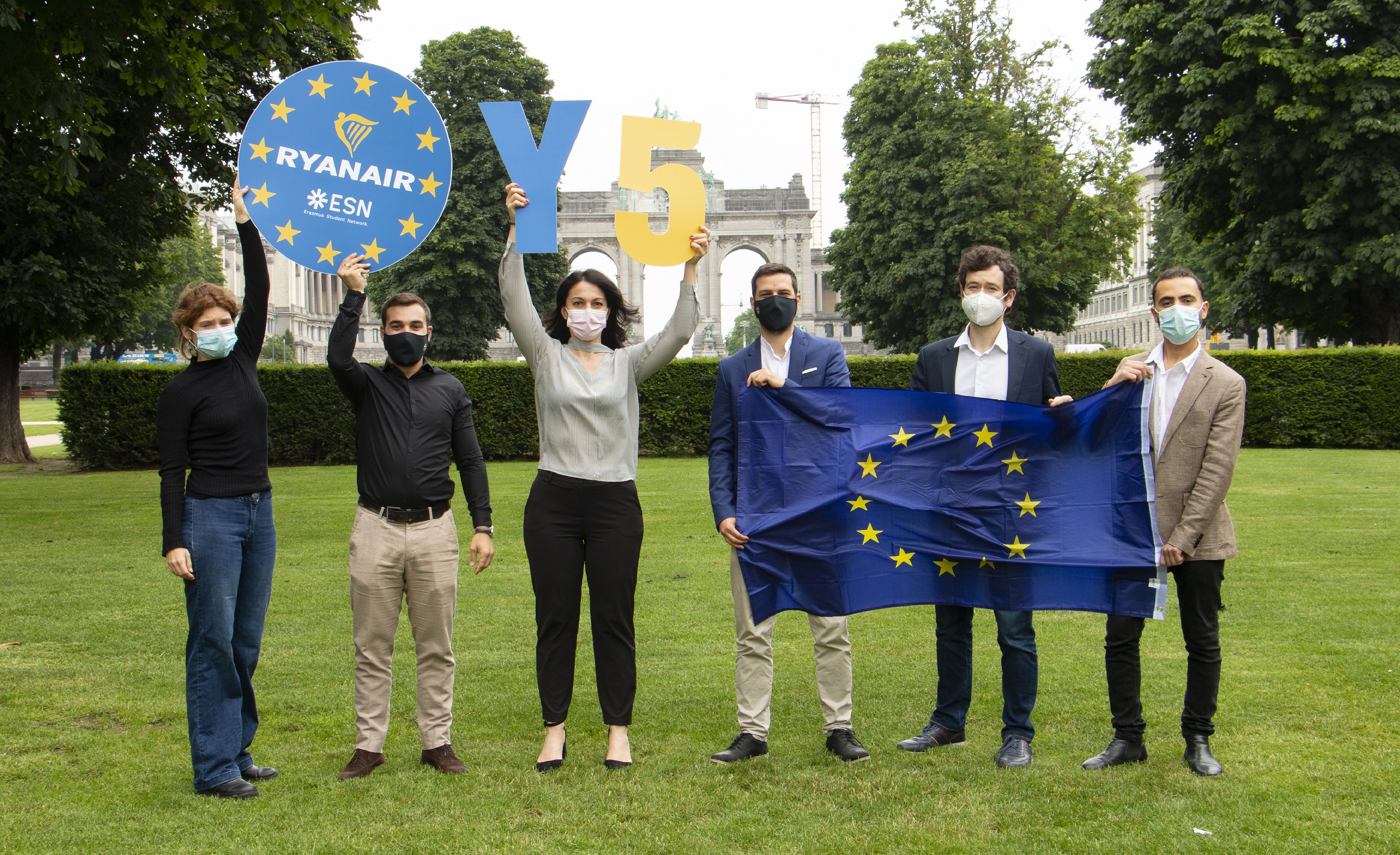 Wednesday, 1 September, 2021 - 17:39
Ryanair, Europe's No.1 airline, and the Erasmus Student Network (ESN) celebrated the launch of their fifth-year partnership on August 25th, which will help European students to finally resume their exchange projects. Delivered as part of Ryanair's customer care improvements, this partnership offers all exchange students a dedicated ESN booking platform on the Ryanair.com website, where they can avail of 10% flight discounts on 4 one-way flights (2 round-trips) and a free 20kgs checked-in bag with every flight booked.
Since 2017, ESN members and exchange students have travelled with even lower fares across the Ryanair network. This exclusive partnership has now reached a total of over 500,000 bookings by Erasmus Student Network members on its exclusive dedicated platform. With finance still being the main obstacle for students to take part in exchange programmes, ESN hopes that this partnership will make travelling, which is often the most expensive initial cost, more affordable and accessible for students with fewer opportunities.
Dara Brady, Ryanair's Director of Marketing, said:
"Ryanair and ESN are proud to launch year 5 of their exclusive partnership to promote student mobility by offering university students across Europe a range of exclusive flight offers, 20kgs free bags and tailored discounts to suit their budget on our Erasmus Student Network dedicated platform. After challenging times for student mobility, Ryanair is delighted to bring support to the recovery of the incredible opportunities offered by the Erasmus program.

ESN students have travelled on even lower fares since the beginning of the ESN partnership in 2017 with a total of already over half a million bookings on the dedicated platform! We hope many more ESN students will avail of these fantastic discounts over the coming months and years. Any Erasmus student with a valid ESN card can sign up via the "MyRyanair" registration service and save even more while they travel on Europe's biggest airline with the widest route network and the lowest fares."
Juan Rayón González, President of ESN 2021/2022, said:
"The partnership between Ryanair and ESN aims to make learning mobility experiences more accessible and affordable for students all over Europe. As ESN, we believe that the transformative potential of the exchange experience is only reached if financial obstacles are removed. It shouldn't be more difficult for less well-off students and those from Europe's periphery to take part in learning mobility. This partnership will allow students to travel back home with free luggage, helping them to save money which they can use to make the most out of their exchange and contribute to the local economy of their hosting communities.

Accessible learning mobility allows young people from all corners of Europe and all walks of life to get to know each other, discover new realities, and develop their competences and civic engagement. Making it a possibility for everybody is the key for the future of Europe. We thank Ryanair for their contribution to this cause."