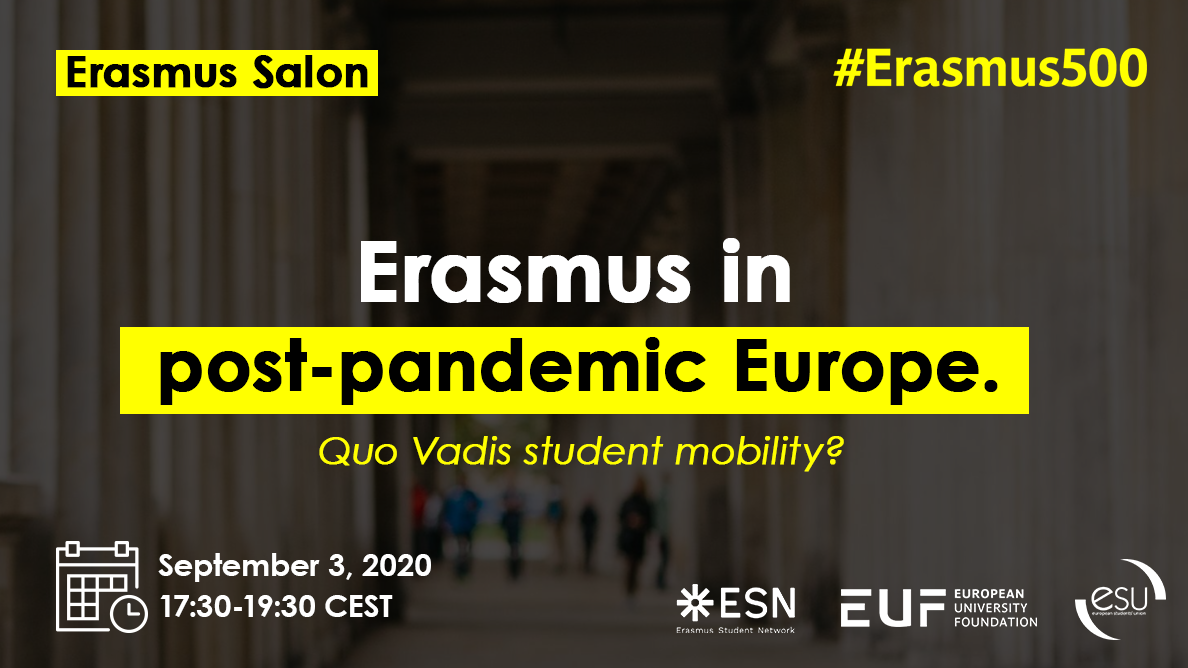 Thursday, 27 August, 2020 - 18:08
Erasmus Salon I #Erasmus500 
3 September 2020, 17:30-19:30 Brussels time/CEST
The Covid-19 outbreak has brought the most radical disruption in the history of student mobility – leaving countless international students stranded. But even before the pandemic, the Erasmus programme was not considered accessible and inclusive by many and the new proposed budget for education, youth, sport and culture programmes is still considered not ambitious enough to make Erasmus+ a reality for all.
During this virtual Erasmus Salon, Members of the European Parliament will express their opinions on the ongoing MFF negotiations and Erasmus+. We will look at the inclusiveness of the current and future Erasmus programme:
How is Covid-19 affecting the future of student mobility?
What are we currently failing to address to make Erasmus+ inclusive and more transparent?
Is the Erasmus grant system fit for purpose?
What can we do with the current proposed EU's budget?
And more importantly, what can we do to change the rules?
Join the discussion with MEPs and more high-level speakers to explore the answers to these questions at the Erasmus Salon on September 3rd at 17:30 Brussels time/CEST.
Partners & Speakers
This Erasmus Salon is organised by the European University Foundation (EUF), the European Students' Union (ESU) and the Erasmus Student Network (ESN) under the umbrella of the non-partisan #Erasmus500 initiative.
We will be joined by:
Speakers:
MEP Vladimir Bilcik, Slovakia, member of the EPP  
MEP Marcos Ros Sempere, Spain, member of the S&D
Matteo Vespa, International Officer at Unione degli Universitari (UdU)
Carle Bonafous-Murat, Délégué permanent de la CPU à Bruxelles
Sebastian Bruque, Secretary of the CRUE Internationalization and Cooperation Sectoral
Moderator: 
João Bacelar, Executive Manager, European University Foundation (EUF)
The Erasmus Salon will be hosted on ZOOM. Registered participants will receive information with the link to the online room prior to the event.
The event is held in English and no translation is provided.
________
Update: read more about the event and watch the recording here.