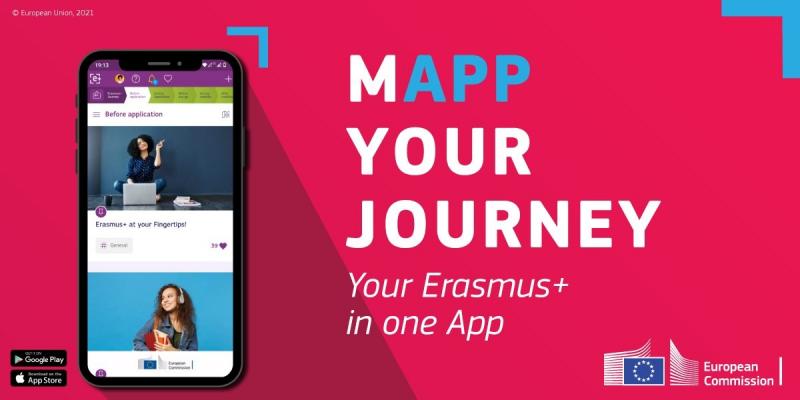 With the new Erasmus+ Programme going fully digital, the European Student Card Initiative aims to create an online one-stop-shop through the Erasmus+ Mobile App for students to manage all the administrative steps related to their mobility period, before, during, and after their stay. The application allows students to find all the information they need to experience a high-quality mobility experience abroad (more information here).
Developed by the ELTE University, together with the European University Foundation and the Erasmus Student Network, the Erasmus+ app is a mobile application for Erasmus+ participants which puts the whole mobility experience at the fingertips of young people. It is intended to simplify the mobility process, to make it more accessible for every user while promoting innovation and digitalisation in the long run. Users of the app will be provided information on the Erasmus+ Programme opportunities for individuals and offered guidance throughout the mobility process - from the application phase (with the integrated Online Learning Agreement) to the return to their home country. It also offers space for young people to submit Erasmus+ Tips via the built-in Tip Collector, to help future generations of Erasmus+ students. Additionally, the app features ESN's services such as the ESNcard discounts and events organised by ESN's local associations.
The Erasmus+ App has been launched in 2021. More information about the application and its launch can be found here.
The second release in 2021 will include more advanced services, including support for digital European Student Cards and the ability to let students apply for their Erasmus mobility directly through the App.
Erasmus+ App is available on Apple Store, Google Play, and web.
Partners:
Eötvös Loránd University (ELTE)
Aristotle University of Thessaloniki
Erasmus Student Network (ESN)
European University Foundation