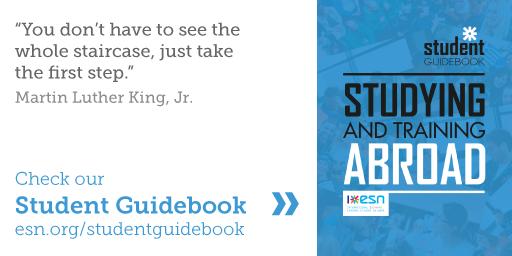 Monday, 1 September, 2014 - 11:13
Every now and then we encounter new things, new experiences, and new challenges. It is not easy to get out of the routine, but if you want to progress and achieve more in life, the way to do so is getting out of your comfort zone.
Living in another country, learning a new language, meeting new people, studying at the receiving university or working in a hosting company/organisation is getting out of your comfort to a great extent.
That and so much more can be achieved with the one of the most known programme of the European Union, the Erasmus + programme, which is yearly sending thousands and thousands of students to go to study or to do a traineeship abroad. It is a life changing experience which complements the academic knowledge gained with opportunities for personal development and helps you to acquire skills for today's fast changing job market.
Are you dreaming about going abroad, but don't know where to start? Are you afraid of the bureaucracy or not obtaining the full recognition? We might have a solution for that problem. Erasmus Student Network recently published a Student guidebook where you can find all the necessary information for the recognition process, your rights and obligations and other opportunities to go abroad.  
When, if not now? Well, you can do it also tomorrow or day after or next week or next year. But the most important is the first step – the decision. What will follow on the way to the top of the staircase; can be resumed in this video.  
STORY and ErasmusIntern.org Team wishes you a great journey